---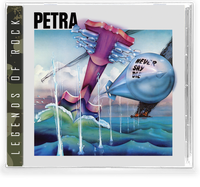 Never Say Die
Release Date: Nov. 19th, 2021
First Time Album Is On CD by Itself
Remastered from Original Sources
High-Quality Expanded 8 Page Booklet, Jewel Case CC
Includes LTD Collector Card
2021 Girder Records, GR1116
UPC: 763416069978
Originally Release in 1981
Legends of Rock™ Edition
Description
Originally released in 1981. Something happened between 1979 and 1981.  Petra's 4th album Never Say Die took a turn to very AOR/Def Leppard-ish like approach compared to the Air Supply approach of Washes Whiter Than, dropping rockers like "Chameleon," "Angel of Light," "Without Him We Can Do Nothing," "Father of Lights" and "Praise Ye the Lord."  It became very clear that this band was headed for Christian Arena-Rock Stardom, leaving the classic mellower style behind and forging a new path towards 80's epic Christian rock band status and success that few bands enjoyed. You'll understand after listening to it how Petra went from hand to mouth to become Christian Music's first stadium rock band and indeed the genre's first supergroup putting on a show like Styx or Kansas traveling with a stage set-up that required 3 semi-trucks. This album is the all-out assault on the forces of darkness.  Yes, it was militant like, and yes we all officially enlisted in God's army after hearing it.  From the graphics to the lyrics, to the stage set-up, Petra officially waged war on the enemy but also on the complacency of a Christian band that just wanted to rock, and rock they did. Only getting better with each and every album.
The fact that this album was never on a CD alone by itself rather than on a 1988 double album with Washes Whiter Than surprises many to this day.  Thankfully it's now been remastered (and reloaded). Never Say Die is finally on a stand-alone CD complete with trading card and an 8-page booklet with lyrics and photos in a jewel case. Arena rock never sounded or looked better.
TRACKS
The Coloring Song (2:52)
Chameleon (5:47)
Angel Of Light (4:21)
Killing My Old Man (3:46)
Without Him We Can Do Nothing (3:26)
Never Say Die (3:42)
I Can Be Friends With You (4:12)
For Annie (4:24)
Father Of Lights (3:02)
Praise Ye The Lord (3:13)
Petra's Washes Whiter Than (1979), Never Say Die (1981) and Not of This World (1983) have been completely remastered from original sources.  Washes Whiter Than is the first time on CD with all the songs.  Never Say Die has never been on a CD by itself.  All 3 are in jewel cases with readable lyrics in a 8 page booklet and contains LTD collectors cards in each.  Christian Rock's #1 band is louder, crisper with more definition, punch and attitude and finally get the credit they deserve. 
Washes Whiter Than, First Time Complete Album Is On CD!!!
Remastered from Original Sources
8 Page Booklet, Jewel Case CD
Includes LTD Collector Card
2021 Girder Records
Legends of Rock™ Edition