---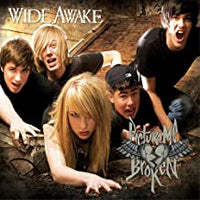 Picture Me Broken – Wide Awake (*Pre-owned CD Digi Pack,2010, Megaforce Records) Emo, Hardcore
Well cared for.
Winners of the 2009 MTV Video Music Award for Best Breakout Bay Area Artist, the evocative, intense music of Northern California-based Picture Me Broken consistently garners new fans and accolades everywhere they play. With the advent of the new model of the music industry, PMB is trailblazing a revolutionary model for young, emerging bands that is as unique as their melodic, screamo musical style. Seizing every available opportunity both live and online to expose new fans to their amazing music, PMB proves that real, powerful and handmade music is still what makes young fans respond.
These five ferocious 17-year olds have already played over 125 live shows including such legendary venues as San Francisco's Fillmore and LA's Whisky A-Go-Go, and regional opening slots for Linkin Park's Projekt Revolution in 2008 and the 2009 Warped Tour both in San Francisco.
Their first full length CD will feature PMB's explosive track 'Dearest (I'm So Sorry),' a #1 Download and Top Song on Pure Volume. After spending 9 days straight at #1, PMB immediately shot back up to #1 a few months later when two additional tracks were added. The CD will feature production work by Mudrock (Avenged Sevenfold), PopSmear Records owner/producer Scott Llamas, and Aaron Hellam, who's behind Dearest (I'm So Sorry).
Proving that musical talent and brash attitude is hereditary-Layla's dad is Rock & Roll Hall of Fame inductee Gregg Allman from the legendary Allman Brothers Band.
1 Dearest (I'm So Sorry) 3:34
2 Echoes Of An Empire 4:02
3 Skin And Bones 3:57
4 Forevermore 3:02
5 Darwin's Song 3:53
6 Nerds And Cigarettes 4:17
7 Dead Serious 3:51
8 Vital Signs 3:07
9 If I Never Wake Again 4:34
10 Live Is Evil Spelled Backwards 3:27