---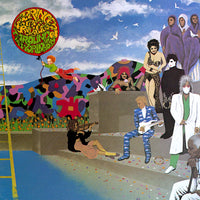 Prince - Around The World In A Day (*Used-CD, 1985) "Raspberry Beret" and "Paisley Park"
Well cared for
Around The World In A Day, released in April 1985, is the seventh studio album by Prince, and the second one credited to Prince And The Revolution.
CUSTOMER REVIEW
This is a wonderful grouping of songs by Prince, and I think he was heavily influenced by his new discovery - at the time - of music by the Beatles. You can hear that sort of 60s pop, Beatles feel in these songs.
(My favorite being "Paisley Park." And it's wonderful to see that, posthumously, his dream of such a place is now a museum where everyone can experience Paisley Park and have it 'in their hearts,' like the song says.)
And my second favorite song is "Temptation."
It's hilarious and shows his fun, silly, goofy side. Some people took it seriously and trashed it. But they missed that it was a silly song that he did because it was fun and because, well, he could.
'Nuff said.
Tracklist
Around The World In A Day 3:25
Paisley Park 4:41
Condition Of The Heart 6:46
Raspberry Beret 3:31
Tamborine 2:46
America 3:40
Pop Life 3:42
The Ladder 5:26
Temptation 8:21