---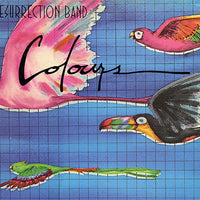 Limited to just 500 units!
Artist: Resurrection Band
Title: Colours (The Originals: Volume 1)
Label: Retroactive Records
Format: CD, 4 panel digipak
Barcode: 651402978925
Product ID: RR1419
Release Date: July 11, 2017
ABOUT THE ALBUM
Resurrection Band was the first ever full on hard rock/metal bands to sing about faith in God. Too gritty and real to be courted or comfortable in the 'Christian Music Industry,' they eventually created their own record label (Grrr). Rez lives in the slums of downtown Chicago and every ounce of struggle and reality is poured into their 14+ albums, Colours (1980) being one of the most important and formative. Bone-crunching guitar rock with social and spiritual sensibility, in the 70's and 80's Rez ruled the hearts of people in the church who cared more about being real than being religious. Great music, great lyrics, great artwork, great people. This 2017 Retroactive Records reissue features a full color 4 panel digipak, with all artwork taken from an original gatefold vinyl record! The audio is remastered and the same as the 2005 jewel case reissue on Retroactive. The first of The Originals Series on Retroactive Records, be sure to get Mommy Don't Love Daddy (The Originals: Volume 2) and D.M.Z. (The Originals: Volume 3) that all showcase the magic and charm of these original releases!
Tracklist
1 Autograph 4:03
2 Colours 4:59
3 N.Y.C. 3:23
4 Hidden Man 2:49
5 Amazing 2:22
6 American Dream 3:22
7 Benny & Sue 3:54
8 City Streets 3:23
9 Beggar In The Alleyway 3:57
10 The Struggle 3:48