---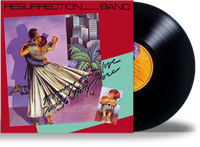 Resurrection Band – Mommy Don't Love Daddy Anymore (Limited Run Black Vinyl) Gatefold Jacket + Band Poster
Release Date: May 15, 2021
Re-mastered Audiophile Pressing from Original Sources by Rob Colwell
Gatefold Jacket Design with Lyrics and Photos
Includes Part 2 Liner notes from JJT (True Tunes)  3-Part Write-up across all 3 records
Includes Huge 24" x 24" Band Poster
Hype Sticker matching Each Colored Vinyl Pressing
Limited to just 250 copies world-wide (50 Black)
Product Description
Resurrection Bands' Colours (1980), Mommy Don't Love Daddy Anymore (1981) and D.M.Z. (1982) are 3 of the most iconic Christian rock albums of all time. They have been completed re-mastered and restored from original sources and are now available on vinyl, for the first time in 40 years. Each one comes in high-quality gatefold with historical photos, lyrics and a liner notes, written in 3 parts; one in each release, by none other than John J Thompson (True Tunes). All 3 also include a large 24" x 24" band poster.
Resurrection Band – The Light Years
There may be no better musical example of the concept of "tough love" than Chicago's Resurrection Band. Boldly committed to embracing the outcast, speaking unvarnished truth to power, kicking over cultural stones and sacred cows with prophetic abandon, and shining the light of love into even the darkest corners, the members of Resurrection Band were a complete anomaly in both the world of rock and roll and the emerging evangelical industrial complex of the modern church.
After two excellent records in the 70s that captured the lingering aesthetic of the counter-culture by melding elements of progressive and acid rock with heavy blues, Resurrection Band emerged into the 1980s with a fresh musical and missional perspective. While still doggedly committed to taking the radical words of Jesus seriously, the group had been living in "intentional community" long enough by then to have faced the fallenness of man head-on. That they chose to do so not in some utopian commune in the desert but in a blood-stained Chicago neighborhood known for gang violence, prostitution, homelessness, and drugs, forced their eyes to stay wide open. The musical result was a trilogy of albums that combines elements of 80s hard rock, new wave, and even punk into something truly unique. Call it urban hard rock, if you will, but these three albums, Colours, Mommy Don't Love Daddy Anymore, and DMZ, saw the band truly come of age. They would come to define the very concept of Gospel Rock.
Mommy Don't Love Daddy Anymore (1981)
Mommy Don't Love Daddy was Resurrection Band's second release for Christian label Light Records.  
Mommy Don't Love Daddy Anymore offers social commentary (on the American culture of divorce), but it does so on an immediate level, by describing one child's description of his family's dysfunction. Yet as powerful as it is, the songs becomes even more chilling to anyone who learns Glenn Kaiser's life story and realizes how autobiographical this detailed scenario is for him. Elevator Music humorously trashes American materialism In other words don't think for a minute you are getting a rock album without substance.  Truth, pain, grace and pure rock n roll all here.  A gut-full of guitar and gut wrenching pain all wrapped together.  Yes, that's what makes this album so special. The music itself is a masterpiece but when you add the read world complications in story form, especially the way that Glenn and Wendy weave in and out, it becomes one of those albums for a life-time. Which of course is why labeling it an an icon Christian Rock album might be the biggest understatement one could ever make. 

SIDE A
Stark/Spare (Kaiser/Heiss)3:42
Elevator Muzik

 

(Kaiser)

1:55
Alienated

 

(Kaiser) 

2:02
Can't Get You Outta My Mind

 

(Kaiser) 

2:52
The Chair 

 

(Kaiser) 

5:06
Can't Do It On My Own 

 

(Kaiser) 

2:50
SIDE B

First Degree Apathy

 

(Kaiser) 

3:03

Mommy Don't Love Daddy Anymore

 

(Kaiser/Trott) 

4:23
The Crossing

 

(Kaiser/Trott) 

3:48
Little Children 

(Kaiser) 

2:36
Lovin' You 

(Kaiser) 

3:29