---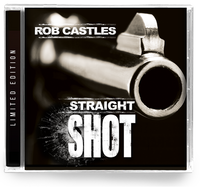 DESCRIPTION
Rob Castles blends explosive southern rock with a heavy dose of blues rock in the vein of Lynyrd Skynyrd, Deep Purple and Marshall Tucker Band. Extensive touring with Resurrection Band on the Between Heaven and Hell tour earned Rob Cassels the right to sit along side of the greats.
Rob Castles started out in 1979 as The Rob Cassels Band eventually changed the spelling of their name to Rob Castles at the urging of the record label in time for their 1988 release of STRAIGHT SHOT. Despite a name change, the band never lost focus and delivered a knock-out blow with their heaviest rocker to date. This classic rock album has been completely remastered with all new artwork as well as 2 bonus tracks that were recorded in 1986 and 1987 but not added to the original 1988 release of STRAIGHT SHOT.
Rob Castles has released albums under the names Rob Castles, Rob Cassels and the Rob Cassels Band. Rob and company, know for their Southern Rock infection blues have toured the world and opened for amazing acts such as Resurrection Band and Steve Taylor. Rob Cassels has played along side some of the best musicians in the world, such as Steve Morse and is often compared to Leon Russell.
In 1988 The Rob Cassels Band changed their name to Rob Castles and released one of their best-produced albums to date, Straight Shot (Dark Records). Prior to Straight Shot, Rob Cassels release Off the Wall (1984 -Morada Records), Kamikaze Christian (1983 - Morada Records) and Evening Pastoral (1979 - Sword Records). More advance musically, and now with a bigger budget, Straight Shot was an explosive sound of southern rock with a heavy dose of blues rock mixed throughout. Now 25 Years later, this album sounds better than ever, completely re-mastered and sonically superior.
Known for his Piano led music Rob has mastered the Hammond B3 Organ and has played along side some of the best Blues artist in the world.
Shoot It Straight
Safety Zone
What's That Voice
Overkill
Next Time
Living On The Edge
Save Yourself For Love
Only Lovers
Can't Turn Down
Crack

BONUS TRACKS 
Recorded in 1986 & 1987 originally found on the limited release CDR "Voyagers" which was a compilation project with these 2 new songs, released at the last minute when Rob was heading to Europe for a tour and needed product to sell at his booth.


* BONUS TRACK

 

Epidemic of Love

 

(Originally Recorded in 1986)
* BONUS TRACK

 

Voyagers

 

(Originally Recorded in 1987)