---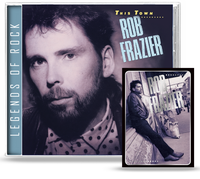 ROB FRAZIER - THIS TOWN (*NEW-CD, 2021, Girder) AOR, Petra, Rick Cua, Kansas, Steve Camp
Co-Lead Singer for Petra on Washes Whiter Than
Includes

 

Rick Cua

 

on Bass
First Time on CD
2021 Girder Records (GR1087)
Originally Release in 1986
CD, Jewel Case, 6 Panel Fold
Includes Limited Edition Trading Card #26
Legends of Rock Series
Remastered by Rob Colwell (Bombworks Sound)
ALBUM DESCRIPTION
This Town was Rob Frazier's 2nd solo album (1986).  Now remastered with limited edition trading card and the first time on CD.
This Town is straight up AOR. Degarmo and Key, Steve Camp and Geoff Moore fans will like this album. Rob co-wrote half of the songs with Steve Camp. Many songs can be compared in tempo to artists such as Huey Lewis and the News but where it really compares is the Degarmo and Key. Very guitar and keyboard driven. You're gonna really vibe with this. It's a great rocker. Sure a few slower songs as well but for the most part it just kicks into high gear the 3rd song in and doesn't let up.  The album went really un-noticed because it was never released on CD until now. This is a must have for any and all AOR fans. 
Rob Frazier sang for Petra, did you know that?  5 songs on Petra's Washes Whiter Than, to be exact. He also wrote the #17 billboard Kansas hit single PLAY THE GAME TONIGHT.  He Co-wrote a ton of songs with STEVE CAMP as well.  
I'm sure like many of you, when I found out that Rob Frazier sang for Petra, my mind exploded, I actually did some fact checking.  Like you, I thought it was just GREG X. VOLZ and JOHN SCHLITT but sure enough Rob was an official member and sang 5 songs with Petra on their album WASHES WHITER THAN.  Then when I found out he co-wrote PLAY THE GAME TONIGHT for KANSAS along side of John Elefante and and it all became clear why he has over 200 recorded songs including songs recorded by Kansas, Petra, Margaret Becker, Steve Camp, Rick Cua, Kenny Marks, Geoff Moore, Ricky Skaggs and others including several gold, platinum and multi-platinum song placements and multiple Dove and Grammy award nominations.
If you are a CCM fan Rob needs no introduction. In 1979 Rob started out in CCM with Petra playing keys and guitar alongside Greg X Volz. In 1982 he co-wrote "Play the Game Tonight" the hit single on Kansas - Vinyl Confessions.  Rob soon started collaborating with Steve Camp and this was a partnership which lasted nearly the entirety of both of their careers. They both wrote songs for one another's  albums.   He wrote and performed numerous top 10 Christian songs including "Cut it Away", "Train Up a Child", "He Is All You Need" (later recorded by co-writer Steve Camp), "(Doesn't Anybody Pray in) This Town", "Break My Heart", "Got Your Word On It", "Go Through Fire", "Love is Sacrifice".  

1. It's the Heart That Matters 
2. Hide and Seek   
3. Break My Heart (#12 CCM 1987)         
4. This Town (#3 CCM 1986)                
5. It's Alright To Cry      
6. Get Into Motion         
7. Army of Love             
8. Starting Over             
9. Hey Frankie            
10. Where Love Begins