---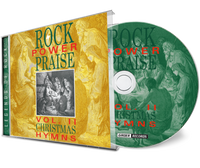 REMASTERED TO PERFECTION 
This entire album has been re-mastered from original sources, digitally preserved for optimal clarity. Not only will you get this album and be in the Christmas spirit in about 4 mins but you'll be listening to best best possibly quality that this music allows.  
Special Pre-Order Price of just $12.99
Remastered from Original Sources
Features Jamie Rowe (Guardian)
Features John Elefante (Kansas/Mastedon)
Features Scott Springer HALO
CD Jewel Case Edition

I know, I know, when you think of Christmas music you think of perhaps Mannheim Steamroller, Mariah Carey, Michael Buble, Charlie Brown Christmas, Beach Boys Christmas or maybe even Amy Grants Tennessee Christmas, all of which are great Christmas albums to get you in the the Christmas Spirit.
But... I assure you THIS ALBUM... yes, This one right here will have you wondering why you haven't been jammin' to this for the last 25 years. 
When you read the comments on this YouTube video you'll quickly realize that everyone that listens to this album list it as one their favorite Christmas Rock Album. It's a Christian Rockers Christmas Explosion.  These aren't your sappy Christmas songs. This is a masterpiece that was put together by none other than John and Dino Elefante (Mastedon, Halo, The Brave, Fighter and Kansas).  You know with those dudes at the helm that you are going to get a top notch Christmas album of epic rock 'n roll proportions. And boy, this does not disappoint. 
There is quite the line-up for this amazing Christmas rocker... Robin Kyle on Hark the Herald Angels Sing sound like Mike Lee of Barren Cross.  Had you not told me that is was the Die Happy and Red Sea guest vocalist, I would have laid money on it that it was Barren Cross's Mike Lee. It just rocks your socks off. I didn't really know Sara Tennison until this album but wow does this sound like HEART or AMY WOLTER of FIGHTER. When you hear the last track, O Come O Come Emmanuel from Jamie Rowe of Guardian you'll be blow away at not only the rendition that absolutely rocks but also when he hits REJOICE... REJOICE you will have goose bumps and hair standing up on the back of your neck.  Maybe its the spirit of Christ, maybe it's just the chills.  One thing I know for sure is that you will rewind and play this song over and over and over again. Those guitars are tough, those licks are a guitar fret explosion and will please every air-guitarist and give you plenty to air-guitar to.  
Tracks
Joy To the World (Ron Gollner)
Hark! The Herald Angels Sing (Robin Kyle - Red Sea, Die Happy)
What Child Is This (Sara Tennison)
God Rest Ye Merry Gentlemen (Jamie Rowe - Guardian)
Little Drummer Boy 
O Come All Ye Faithful (Robin Kyle)
Silent Night (John Elefante - Kansas/Mastedon)
For Unto Us a Child Is Born (Sara Tennison)
O Holy Night (Scott Springer - HALO)
O Come, O Come Emmanuel (Jamie Rowe - Guardian)