---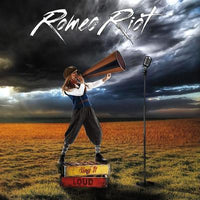 Sale
IN STOCK AND READY TO SHIP!
For those who like faith-based bands, Romeo Riot is a band with Christians in it, not a Christian band (just like another Kivel Records band Adriangale with Jamie Rowe/Guardian lead singer)
*It does say "damn well / raise hell" in one song.
GLAM/HAIR/MELODIC METAL
COMPACT DISC
KIVEL RECORDS
ROMEO RIOT:
Ty Sims - Bass (Bombay Black) Jace Pawlak  Keyboards and Vocals Erik Johnson Guitars and Vocals (Bombay Black) Scott Miller - Guitars (Tango Down) And a proud welcome home to Mark Giovi  Lead Vocals (Former Vocalist of Farcry - High Gear and Optimism albums)
ABOUT THE ALBUM
Hard hitting arena Rock. The album Bon Jovi never made !! Think Night Ranger, Slippery Era Bon Jovi with a wall of guitars and vocals. This is a 10 song album that is begging to be played on a big stage or cranked in your stereo, car or ipod. Romeo Riot is a band of now bringing back the sound of then with the production of today. Best of both worlds. Most importantly, this is a FUN record that will put a smile on your face and want you to hit repeat as the last chord rings out. Who is this band? Well this is what their label has to say : What sort of fun happenstance did we just have land at our feet? Well, forgive us for using such a term, but Kivel Records now has its own Supergroup. NO, we do not mean this with arrogance or to appear boastful with a laundry list of a who's who of platinum selling musicians. What we mean is, to "us", this is OUR Supergroup. This is our A-TEAM! These are our All Stars, this is our own Damn Yankees! 5 Musicians that have contributed to the last 5 years of our success. Now all together working as one unit, and as one band. They have all produced, written, and released some of the best records in Kivel Records two decade history. So it is time we let them throw a party of their own.
TRACKS
1. Room To Run
2. Streets of Babylon
3. Sing it Loud
4. Twist of Fate
5. What if We were Wrong
6. Same
7. Cry
8. I Want to Try
9. Every Now And Then
10. Best Nights of our Lives