---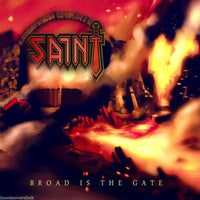 Sale
6 Panel Full Color Wallet Styled Packaging
Tracks
Broad Is the Gate
Hero
We All Stand
Demon Pill
We Will Fight
Who You Are
Reach the Sky
Never the Same
Metal Cross
CUSTOMER REVIEW
The band just keeps getting better. Exit longtime fan favorite Josh Kramer on vocals and enter completely unknown Brian Phyll Miller. The band doesn't miss a beat and still sounds quintessentially Saint even with a new sound on the mic. To replace Josh Kramer and not miss a beat is an incredible feat as Kramer left some might big shoes to fill. Miller sounds terrific on this release. His mid-range powerful vocals, combined with occasional falsettos to the sky, are perfect for Saint. Beyond the vocals we have a band that sounds as hungry as they ever have. The rhythm section of Richard Lynch on bass and Jared Knowland on drums are tight and potent, providing a pummeling bottom end that under girds each and every song on this record. Jerry Johnson, while always providing a solid performance, has never equaled the charisma that Dee Harrington brought to the band...until now. This album is Jerry's coming-out party. The leads on this album are crisp and incredible. The rhythm guitar work is stellar.
Another thing that must be noted is the production and mix. This is another area where Saint has been hobbled in years past. Despite killer performances, the production quality (or lack thereof) has really held the band back. With "Hell Blade" we began to see the production values get better, and now with "Broad Is The Gate" we see the full potential of this band.
One other comment I'll offer is that the album is a bit short, clocking in at just over 30 minutes. However, what the band seems to have done here is take their best 8 full length songs and add one short instrumental, creating an album with no filler. So, while the album is short, it is incredible from beginning to end.
If this is what we have to expect from Saint in years to come, I cannot wait for new albums. But for now, I will be cranking this record loud and often!