---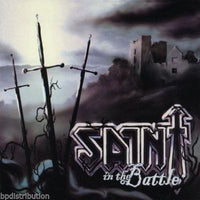 *****LAST/FINAL COPIES

ABOUT THE ALBUM
When 2004 rolled around Salem, Oregon based Christian metal legends, Saint, returned with their first full length studio release in fifteen long years - In the Battle! After getting started in 1984 with a low budget six song EP entitled Warriors Of The Son, Saint signed to Pure Metal Records and followed up two years later with its full length debut, Time's End. The band may have reached their artistic pinnacle, however, with 1988's Too Late For Living. Both Times End and Too Late For Living were recently voted top 10 Christian metal classics by the readers of Untombed Magazine. Saint briefly reunited in 1999 for a six song EP entitled The Perfect Life that, disappointingly, sounded like a demo and failed to include original vocalist Josh Kramer. Five years later, In The Battle would find Saint returning to its classic metal roots of the 80s in addition to welcoming Josh Kramer back into the fold. Don't expect grungy modern metal from Saint. Expect a lesson in EXACTLY what old-school metal should sound like. When you think of metal, think of Saint.
This 2010 Retroactive Records re-release features all new artwork in a Collector's Edition 6 panel full color digipak. The audio has been completely remastered by J Powell at Steinhaus (Titanic, Rex Carroll Band, Guardian, Malice reissues) for maximum sound quality. Offering the total package, In the Battle only solidifies Saint as a tremendous force in crunchy, traditional, heavy metal. Often compared to Judas Priest, the muscular guitar riffs and elite vocals also bring to mind Barren Cross, Dio, Bloodgood and Iron Maiden.
*AngelicWarlord Reviews: "What else can you say?  In The Battle proves an all around solid comeback effort in combining a strong production job with the band's top notch musicianship and songwriting. While "Ryders" is by far the album's strongest track, the hard hitting title track, the catchy "The Choice" and the seven minute long masterpiece "Sacrifice" are equally commendable."

A1 In The Battle 4:07
A2 Star Pilot Return 3:48
A3 Here We Are 3:59
A4 Sacrifice 7:15
B1 Holy Rollin' 4:02
B2 Ryders 6:03
B3 The Choice 3:38
B4 When 4:35
B5 Acid Rain 0:39
B6 Full Armor 2:38