---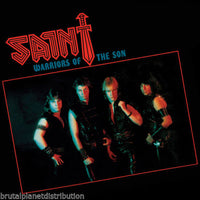 Product ID:  RAR7992 / Barcode: 845121039375

1984 original release
Iconic classic heavy metal
6 song EP
Remastered
Digipak packaging 

ABOUT THE ALBUM
Warriors of the Son is the 1984 six song debut release of the legendary Christian metal band, Saint. The band broke into the infant Christian metal scene at a time when Christian metal heads had very little to choose from and were looking for anything that was even close to quality. Some bands had the sound (Daniel Band) and some bands had the look (Stryken) but finding a Christian metal band that had the sound and the look was almost impossible! When Saint burst on the scene in 1984, metal fans were treated to amazing metal songs coupled with a fierce metal look that would please the most diligent Judas Priest fan! Warriors of the Son was originally released on the indie label Rotten Records, then picked up by Morada Records (different covers). The 2001 CD reissue by M8 left fans fuming because of a pitiful remastering job. This 2011 Retroactive Records release is packaged in a 6 panel digipak faithful to the original vinyl six track release and includes a digital remaster that will knock fans off their feet! These songs have never sounded better (nor will they)! Retroactive Records even includes exclusive liner notes from band leader, Richard Lynch! This is part of the Retroactive Records Originals reissues collections that celebrates and enhances the brilliance of the original releases without subpar bonus material! Enjoy this Christian metal classic now more than ever! For fans of Judas Priest, Black Sabbath, and Iron Maiden!
Key Sell
-First time available on CD with quality remaster
-Original artwork (classic Morada Records version)
-True to the greatness of the original release
-Exclusive liner notes by band leader Richard Lynch
-For fans of Judas Priest, Iron Maiden, and Black Sabbath!
TRACKS
1. Plan II
2. Legions Of The Dead
3. Abyss
4. Warriors Of The Son
5. Vicars Of Fate
6. Time's Wasting