---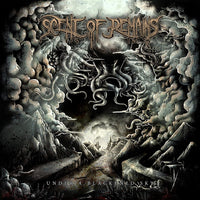 SCENT OF REMAINS - UNDER A BLACKENED SKY (*NEW-CD, 2014, Pavement) Extreme Metal!

Exploding forth from a blood and sweat soaked wrecking ball of pounding and
rolling grooves, memorable hooks, wailing lead guitar, and a trinity of screaming,
death growls and clean vocals, Scent of Remains defy any core suffix or sub-sub
genre descriptors. The focus is pure, simple and to the point no nonsense metal
for anyone who likes to bang their head or get their face melted.

Scent of Remains has been Spreading the Scent all over the Southeastern United
States since getting their start in 2009; gaining a reputation as a band that plays with
high energy and heart-felt emotion. They ve been fortunate enough to have shared the
stage with many well-known metal acts like Fear Factory, Hate Eternal, Devil Driver
Watain, Static-X, Green Jello, Davey Suicide, 9 Electric, Kobra and the Lotus and
Straight Line Stitch.