---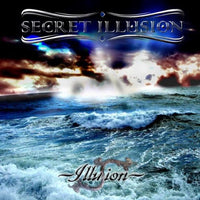 SECRET ILLUSION - ILLUSION (*Pre-Owned CD, 2011, Risking Records UK) Rare Greek Power Metal
Well cared for
9 tracks
CUSTOMER REVIEW
"Illusion" is the brand new, debut album by Greek melodic/power metal band "Secret Illusion". "Secret Illusion" have been a household name of the Greek underground power metal scene since the mid-00's setting themselves from the majority of the genre arguably due to their crystal-clear melodic approach and impeccable vocals.

"Secret Illusion" is the brain child of guitarist Philippos Papakyriakou, also the main songwriter of the group, featuring the vocal talents of Tassos K alongside drummer Chris Stratigos, keyboardist Gus Dibelas, and bassist Dimitris Anestis. It has to be clear that "Secret Illusion" rely by no means on the double bass drum attack that define the power metal genre, in fact you will find a fair amount of mid tempo songs which build up during the verses and choruses on "Illusion". The focal point of their songwriting and performance are clearly the melodic lines of the guitars, vocals and keyboards. Songs like the intense "Silent Voices", the straightforward/dramatic "Hold on forever" and the more traditional "Light your own way" and "Endless Flight" are prime examples of memorable melodic/power metal in 2012.

The group is one not afraid to challenge itself, hence the inclusion of "Beauty of a lie" and "Serenity" which-for the biggest part- are semi acoustic, vocal-keyboard driven tunes where Tassos seems to struggle vocally ( and, to be fair, so would many experienced singers in the genre.)

Overall "Secret Illusion" is a substantially differentiated power metal album from the majority of euro-power works of late. Themes tend to be repetitive and some clichés are deemed necessary, yet the melodic essence of this debut is more than enough to bring the listener back to "Secret Illusion" for any number of plays.