---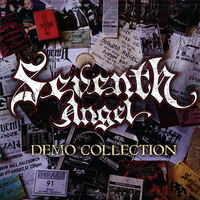 Sale
SEVENTH ANGEL - DEMO COLLECTION CD
AVAILABLE - READY TO SHIP!
Artist: Seventh Angel
The album title: Demo Collection
Record Label: Bombworks Records
Product ID: BW1404
Barcode: 651402978871
Release date: April 25, 2017
Packaging: 8 panel full color digipack
ABOUT THE ALBUM
Packaged in an 8 panel, full color digipak release, most of this musical collection has never been available to the clamoring public demand for more from the iconic U.K. Christian metal band, Seventh Angel! Bombworks Records has been pestering metal legend, Ian Arkley (vocalist extraordinaire) to release these classic demos, and we give thanks to the metal Gods that Ian has finally relented and blessed classic thrash fans with these never before released demos! Even the Heed the Warning demo, which was released with some live tracks in years past has been taken direct from Ian?s personal cassette and remastered so it's a completely different version than previously released. Detailed liner notes will help explain the context of each demo, and enhance the charm of Seventh Angel's maturing process. Don?t expect all the bells and whistles of a fully produced studio album, but with the Jeff Mortimer remastering, we offer these demos in as glorious a form as ever possible. You get the complete Seventh Angel demos RED DEMO (March 1989), REHEARSAL DEMO (November 1989), HEED THE WARNING DEMO (1990), and DUST OF YEARS DEMO (2008)! Galloping riffs and insane vocals propel the crunchy thrash/doom metal legends we call Seventh Angel! For fans of Sabbat, Celtic Frost, Believer, and Vengeance Rising! Limited Edition of just 1000 Cds!
TRACKS
RED DEMO (March 18th, 1989)
Heed the Warning
In the Name of Christ We Rock
Betrayer
REHEARSAL DEMO (November 1989)
4. Dr. Hatchet
5. Divine Takeover
6. Betrayer
7. Locked Up In Chains
HEED THE WARNING DEMO (March 1990)
8. Forbidden Desire
9. Seven Angels Part 1 and 2
10. I of the Needle
11. Heed the Warning
DUST OF YEARS DEMO (2008)
12. Lamentations
13. The Turning Tide