---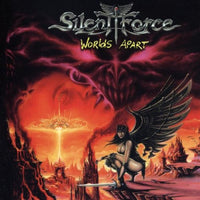 Silent Force ‎– Worlds Apart (*Pre-Owned CD, 2004, Noise Records) ex-Royal Hunt DC Cooper melodic metal
Well cared for

CUSTOMER REVIEW
This is the third album from Silent Force,a band fronted by D.C. Cooper the former singer of Royal Hunt.

Not too different from the previous disc Infatuator.Worlds Apart is high octane Power Metal with lots of double bass drums and speedy guitars and of course the super high vocal notes of Mr. Cooper.

The keyboards are better on this one with some cool trade offs with guitar.The guitarist is obviously from the Yngwie Malmsteen school of guitar playing.Sounding like a clone at times.Just listen to the track Merry Minstrel where he completly borrows from an Yngwie track called VooDoo.( found on Magnum Opus. )

D.C. is clean and powerful as usual,hitting notes only Tony Harnell from TNT can hit.

Most of the tracks are fast paced rockers,Worlds Apart,Heart Attack,Hold On and Heroes are favorites.

I would have given this 5 stars had they stretched out a bit and added a little more Progressive elements to this album.They are all exceptional musicians capable of more than just paint by numbers Power Metal.Even if it is top notch Power Metal.