---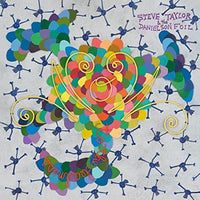 2016 release from the veteran singer/songwriter. Opener "Wow to the Deadness" is the perfect example of their effortless fusion. Part eerie campfire sing-a-long, part bruised-up brawler, the song volleys from Taylor's exhortation to "let it slide to the other side" to Smith's ecstatic declaration, "We have a winner!" In "A Muse," Taylor plays another glory hound clawing for his 15 minutes over acrid, clawing guitars. And "Wait Up Downstep" is a revved-up Boy Scout marching song, Smith alternating between mantra-like refrain and beautifully swooping verses. And "Nonchalant" has the same coiled intensity as the National, but feels more wounded, more restless. More than anything, Steve Taylor & the Danielson Foil is the sound of two acts scrapping every rule of songwriting and rewriting the document according to their own impulses. Every time you think you've got its sound pinned down, it shape-shifts again, transforming into something entirely new, fantastically confounding, and utterly irresistible. It is, to paraphrase Steve Albini, really raucous and really, really great.

Tracklist
Wow To The Deadness 2:35
Wait Up Downstep 2:28
The Dust Patrol 2:01
Nonchalant 3:02
A Muse 2:17
Drats 2:54

CUSTOMER REVIEW
It's really hard not to describe this EP with out using the title... but really... it's the only word that comes to mind... This Ep is like wo-... wonderific... That was cheesy... I know... Okay... way to cheesy... Let me begin again by saying that, in my opinion, some of the best albums that I own are all collaborative efforts and this EP is definitely one of the best examples of that. This IS NOT a Steve Taylor album... This is a Steve Taylor (aka Steve Taylor/ Steve Taylor and Some Band/ Steve Taylor and the Perfect Foil/ Steve Taylor and the Danielson Foil, Chagall Guevara, music producer, movie director and all around nice guy), Daniel Smith (aka Danielson/ Danielson Family, founder and head of Sounds Familyre record label and all around little bit more of a nice guy), Peter Furler (aka Solo Artist and former front man for The News Boys), John Mark Painter (aka Fleming and John), Jimmy Abegg (aka Jimmy A, Vector, guitarist for Charlie Peacock, Member of Rich Mullins & a RagaMuffin Band and solo artist) ...whew that was a mouthful. My point is this, this album is a blend of several artist with like a bajillion years of experience... and you can tell. If this album was a pizza (a steak, soup or whatever you like... I happen to like pizza) it would be so good that you would unashamedly huddle yourself in a corner in a whirl wind hour of gorging and gluttony until there was nothing left but plate... We're talking no crumb left unturned here. Yes... it is that good...
Then there's dessert... the icing on the cake (or the extra triple scoop in your Sundae) which is the depth and meaning of each of these songs. If you're familiar (or Familyre) with Taylor and Smith's work you know that both artist are known for their sharp wit, brilliant metaphors and insight. Their profound way of writing songs is to me one of the most engaging thing about these bands. These songs don't just rattle around in your head because they're catchy, they stick with you because there's more to them then that... Like actual thought that has been put into these lyrics or painfully honest self-portraits.

In conclusion... because I didn't want to get into the extremes of donating vital organs to this band (and believe me the thought never crossed my mind.... until now). if you're a fan of any of these bands that are in this band... buy this EP... If your not a fan of this band after you've bought this EP... then I thank you on behalf of the band for your generous contribution... hey... you could've wasted your money at Starbucks.