---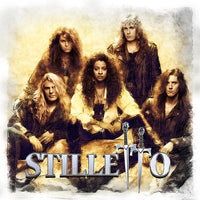 STILLETTO - STILLETTO (*NEW-CD + DVD. 2022, 20th Century Music) elite AOR Hard Rock!

These demos released in the early 90's and features the absolutely outstanding and incredibly soulful vocal talents of Debby Holiday, who was previously a top dance / R&B singer who turned to hard rock and founded this band in early 1990s (Debby sang for BADLANDS on a British tour when the original singer Ray Gillen was ill)



Available for the first time anywhere, a collection of Stilletto material never heard before outside of music industry circles. These are demos from three decades ago along with live footage from the band (three shows at FM Station in N. Hollywood).
Tracklist:
01 - Alive & Kicking
02 - Dear John
03 - Reasons for Love
04 - Shaking the Monkey
05 - New Religion
06 - Double Dose
07 - Down on Me
08 - Lay Your Hammer Down
09 - Calling Your Name
10 - Stone Cold Heavy Love
11 - Love is on Your Side
12 - Lesson in Love
13 - Take Me On
14 - Wild Roses
15 - Lady Blue
DVD:
STILLETTO Live!
FM Station - 28 August 1990
FM Station - 7 May 1991
FM Station - 11 October 1990