---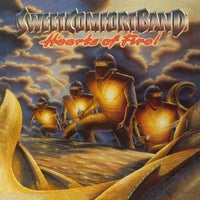 Sale
SWEET COMFORT BAND - HEARTS OF FIRE (2009, CD, Retroactive)
Catalog Number: RAR7891
UPC: 845121012125
Style: Pop/Rock (Jesus Music)
Tracks: 10
Time: 34:58
Lyrics: No
Packaging: 4 panel digipak
ABOUT THE ALBUM
Sweet Comfort Band was one of the most original, proficient Christian bands to come out of the Jesus Music revival of the 70's, producing two of the most important releases of that decade. As the band launched into the 80's, SCB began reinventing themselves with a sound and message that would broaden their appeal and make them mainstays of Christian pop. Originally released in 1981, Hearts Of Fire mixes ballads, funk and all-out rockers to provide what John Styll (Editor, CCM Magazine) proclaimed the best Sweet Comfort Band album this far! "Isabel" sparkles with catchy hooks. "They Just Go On" is hopelessly melodic and "The Contender" is chock full of power chords! As an added bonus, the songwriting of both Duncan and Thomas begins to mature on this release, avoiding cliches and exhibiting an honest focus on emotion not very typical in Christian music from this era! This Limited Edition reissue comes packaged in a full color digipak with enhanced original artwork and is properly remastered for a high quality audio experience!
KEY SELLING POINTS
**Full promotional/magazine campaign
**Features CCM giants, Bryan Duncan (solo) and Randy Thomas (Allies)
**For fans of Petra, Prodigal, Allies, Kansas, Toto, Whiteheart
**Classic album reissued in full color digipak
**Classic out-of-print and in-demand album now an affordable, high quality reissue
**Band toured internationally for a decade
TRACKS
01. Isabel
02. You Can Make It
03. They Just Go On
04. The Road
05. Feel Like Singin'
06. Now Or Never
07. Can You Help Me?
08. Contender
09. Just Like Me
10. You Need A Reason