---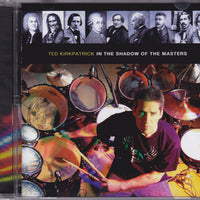 CD, Jewel Case, 2010 Pathogenic Records
Barcode: 825576073223
ABOUT THE ALBUM
Ted's new solo project is a highly technical drumming endeavor dedicated to the great masters of classical music. Features tracks by Bach, Mozart, Beethoven, Chopin, Paganini, and other great composers. 9 tracks, over 40 minutes.
"Impressive. Insightful. Dare I say it... INSANE!!!"
"Epic as expected."
"Ted Kirkpatrick is undeniably one of modern days' most accomplished drummers. This new release demonstrates his mastery of the "kit" - check it out - it WILL blow you away."
"Absolute genius!!"
"It's the album I've been waiting for."
Tracks
Ludwig Van Beethoven: Symphony, No. 5, Finale Op. 67
Frederic Chopin: Etude Op. 10, No. 4
Wolfgang Amadeus Mozart: Overture to the Marriage of Figaro
Augustin Barrios: La Catedral, Allegro Solemne
W.S. Gilbert and Arthur Sullivan: Modern Major General
Johann Sebastian Bach: Fugue in D Minor BWV 565
Wolfgang Amadeus Mozart: Symphony # 34 Finale K338
Nicolo Paganini: Caprice #10 Opus 1
Gioachino Antonio Rossini: Overture to the Barber of Seville