---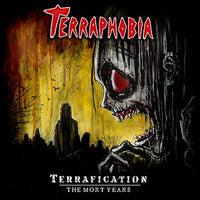 Sale
TERRAPHOBIA - TERRAFICATION: THE MORT YEARS (*NEW-CD, 2015) 
Soundmass is pleased to announce the release of the sixth TERRAPHOBIA album.
Going for something a bit different this time, Michael Jelinic has recorded a Mortification covers album. Having joined Mortification in 2002 and left his mark over 3 albums as one of the metal legends' most gifted guitarists, Jelinic decided to re-record the 7 songs for which he wrote the music while in Mort. Titled "Terrafication – The Mort Years", expect a feast of thrash/death metal swathed in the signature guitar playing that we all know and love from this talented musician, coupled with his intense and versatile vocal force. Jelinic also enlisted the help of the mid-era Mortification drummers who shared the stage with him – Mike Forsberg and Damien Percy – to perform on this Mort covers album, making it a reunion of sorts.
Terraphobia was originally formed in 1985 by Jelinic, but 10 years had passed in silence until the 2011 release of "Evilution", written, performed and produced by Jelinic. 2015 sees "Terrafication – The Mort Years" and the Terraphobia metal machine soldiering on in the new millennium!
TRACK LISTING:
Razorback
The Dead Shall Be Judged
I'm Not Your Commodity
Purest Intent
Way Truth Life
Your Time
Livin' Like A Zombie