---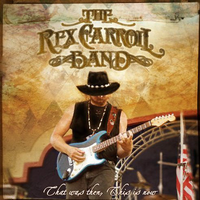 Sale
The Rex Carroll Band ‎– That Was Then, This Is Now (*NEW-CD, 2010, Retroactive) Whitecross axeman
Tracklist
1 Find A Way
2 Circle Of Love
3 Foolsgold
4 Working Man's Blues
5 Walk A Mile
6 Rock My World
7 Witch Dr. Bones
8 Delta Memories
9 My Train
10 Throw Them Bonz
ABOUT THE ALBUM
Like a lumbering freight train, The Rex Carroll Band got started slowly (they have been playing live shows since 2004) following the success of 80's Christian metal legends, Whitecross, where Rex established himself as a guitar virtuoso of epic proportions (2 Dove Awards & 5 consecutive HM Readers Guitar Hero Awards). But, Rex grew up in the 70's rock scene where he was profoundly influenced by blues and southern rock standouts like The Allman Brothers Band, ZZ Top, Stevie Ray Vaughn and Jimi Hendrix. It is with great joy that Retroactive Records releases That Was Then,This is Now as the debut disc from this Chicago power trio that fuses Rex's fierce guitar skills with soulful, imaginative and heavy blues. "Foolsgold" is a scorching guitar instrumental showcasing Rex's axeman-ship full scale (ala Eddie Van Halen or Yngwie Malmsteen) and it serves as the perfect intro to the riff-heavy "Working Man Blues". While this album will appeal to fans of Kenny Wayne Shepherd and Stevie Ray Vaughn, the mind-blowing, bluesy guitar heroics from start to finish establish The Rex Carroll Band as the choice band for those looking for air guitar inspiration! Get your leather vest and fire up your Harley Davidson, because the blues tradition has just been elevated to a new level.

WHAT OTHERS ARE SAYING ABOUT THE REX CARROLL BAND

Brian Quincy Newcomb: "Rex Carroll has always been a serious guitarist, capable of shredding up a serious storm with amazing nuance and delicacy. But his playing exhibits not merely power, but a rich appreciation of melody and emotion, which more than suits the bluesy tenor of his latest music."

DangerdogMusicReviews.: "Drawing from diverse and formidable roots, Rex Carroll delivers emotional and fiery guitar work on his latest creation. From neo-classical metal fireworks to rough and tumble gritty blues, Carroll is the real deal and worth every minute of your time."

Melodic dot net: "Hard rock with heavy blues influences filled with groovy and melodic riffs that should please rock fans of Ritchie Kotzen, Glenn Hughes and The Jeff Healey Band."

Ken Tamplin/Shout: "Rex has sustained the art of great guitar playing throughout the years. It's more than obvious that Rex is on fire and his light shows no signs of dimming."

CUSTOMER REVIEW
I stumbled upon this CD quite by accident, but Amazon's editorial description caught my eye. While I was never a fan of Whitecross, the comparisons to Stevie Ray Vaughan and The Jeff Healey Band were enough to convince me to take a chance on this album. That Was Then, This Is Now was worth the gamble.

Rex Carroll, the leader of the band, is certainly an accomplished guitarist. The 1 1/4-minute-long third track, "Fools Gold", dispels any doubts the listener might have concerning Carroll's skills as an axe-man. This short piece serves as a blistering guitar intro to the fourth track, "Working Man's Blues", a muscular, blues-tinged rocker reminiscent of Lynard Skynard at their heaviest. A few other tracks include a brief display of guitar virtuosity, but if you are expecting lengthy solos and extended jamming a la The Allman Brothers Band, you'll be disappointed. The Rex Carroll Band performs a collection of straight-ahead heavy southern rock songs, of four or five minutes duration each, on this outing.

One of my favorite numbers is the second-last track, "My Train". It is the longest song on the album (just over 6 minutes) and the only one to feature an acoustic guitar intro. The acoustic guitar soon gives way to a slow, smoky electric guitar theme that carries the remainder of the song along at a steady, leisurely pace--but with a smoldering intensity. This one is a true minimalist masterpiece!

As for the vocal duties, Rex handles these in a workman-like manner, with a gravelly edge to his voice typical of many blues vocalists. While his singing is not likely to send shivers up and down your spine, it is appropriate for the type of music he and his band-mates play.

Given that Rex is an ardent believer in the Lord Jesus Christ (see his "thanks" in the liner notes), some may be concerned about overly preachy lyrics. While a couple of tracks contain a gentle reference to his faith, none of the songs attempt to convey an overtly Christian message. If you are a fan of masculine southern rock with a distinct blues flavor, yet find yourself yearning for lyrics that are more uplifting than the usual blues fare, That Was Then, This Is Now is very likely to appeal to you.

My only serious complaint is that three of the tracks on the album end in potentially thrilling instrumental sections that, unfortunately, fade out mere seconds after they begin. Mr. Carroll's excellent guitar playing should have been featured at greater length during these instrumental endings. Only the last track, "Throw Them Bonz", allows Rex some extended playing time. The final 1 1/2 minutes is pure, hard-rocking instrumental bliss--a superb way to end the album! Too bad there wasn't a bit more of this on a few of the other songs.

Overall, this is a solid southern rock effort from the Rex Carroll Band. The album earns four stars from this rather particular reviewer.