---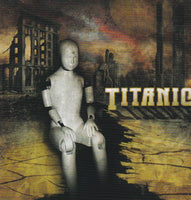 TITANIC - WRECKAGE (THE BEST OF & REST OF) (*NEW-CD, 2007, Retroactive Records)
Tracklist
1 Ocean Of Blood
2 Hypnotic
3 I Am Watching You
4 The Sea
5 Hollywood Blvd
6 Carnival Of Souls
7 Gods Of War
8 Screaming In Silence
9 Nightmare
10 Dead Men's Bones
11 Web Dreams
12 Time
13 Shovel The Coal
14 Don't Care Feat. Robert Sweet
Drums – Robert Sweet
15 Freakshow Feat. Robert Sweet
Drums – Robert Sweet
16 Ocean Of Blood
17 I Am Watching You

Credits
Mastered By – Rob Colwell

Notes
2007 release; 17 Tracks; Features Robert Sweet (Stryper) on drums for four tracks
CUSTOMER REVIEW
Well, here you have it, the best of Titanic plus bonuses. I find it hard to make a best of for this band, because how could any of their songs be left out? Every tracks on their first CD "Maiden Voyage" are amazing to me, and you're treated to five tracks from it here (Ocean of Blood, I Am Watching You, Hollywood Blvd, Gods of War, Nightmare).

Their second CD "Screaming in Silence" was only slight not as amazing (to me) as the first, but still an excellent powerful release, and it is represented by five tracks also (Hypnotic, Carnival of Souls, Screaming In Silence, Web Dreams, Time).

The last three tracks are from the newest release "Full Steam Ahead" (2007) which is such an amazing CD all around, though with a new vocalist it is a different sounding band. Amazing band, yes, but not that familiar Titanic sound of old. However, the three tracks appearing here (The Sea, Dead Men's Bones, Shovel the Coal) bear great witness to the amazing release, and in no way harm this release, but just add additional fuel to the fire.

Then there are the four bonus tracks, all of which feature Robert Sweet (Stryper) on drums. Two of them (Don't Care, Freak Show) appeared as bonus tracks on the reissue of "Maiden Voyage," so they are previously released. The other two tracks (Ocean of Blood, I Am Watching You) have never been released (this version of Ocean of Blood is different from the one isued as a bonus track on "Maiden Voyage").

So, while I would highly suggest everybody actually buying all three full releases, if your funds are short, or you wish to test the waters first, there isn't a weak track on this 17 track best of release, and you will blast this through your speakers with much pleasure.