---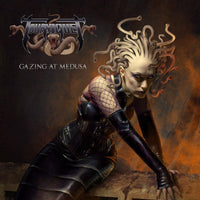 Sale
TOURNIQUET - GAZING AT MEDUSA (*NEW-CD, 2018)
Nine brand new songs with everything you've come to expect from a great Tourniquet album. 

Tim Ripper Owens – vocals
Chris Poland – lead guitar
Aaron Guerra – guitars, vocals
Ted Kirkpatrick – drums, bass
Deen Castronovo – guest vocals on title track
"Phenomenal" - 100/100 - HeavyMThunder

"Modern, brutal, and heavy - with excellent melodies" - 10/10 - Metal Temple

"A loud ovation for this spectacular work" - 10/10 - Conection Rock

"The music is electrifying". Production: 10/10 - Amino Apps

"Virtuosity" – 10/10 – The Metal Resource

"Quite possibly the band's best release to date" - Christian Molten Metal

Track Listing 
1. Sinister Scherzo 05:50
2. Longing for Gondwanaland 05:46
3. Memento Mori 04:22
4. All Good Things Died Here 04:52
5. The Crushing Weight of Eternity 06:17
6. The Peaceful Beauty of Brutal Justice 05:06
7. Can't Make Me Hate You 04:02
8. One Foot in Forever 04:59
9. Gazing at Medusa 04:12
METAL TEMPLE REVIEW
What can evolution bring to an old and experienced Metal band? It's not an easy question to answer, because when this primal driving force acts, we can't even foresee what will happen. So if you want to see with your own eyes (and hear with your own ears) what I mean, take a hearing at "Gazing at Medusa", the new album from North American veterans from TOURNIQUET.

All that knows the band's work since the 90's must have in mind that their prior personality is to build a Thrash/Heavy Metal with clear influences from US Metal. But at "Gazing the Medusa", the band evolved a lot, putting any influences from extreme Metal genres on its music, along with modern sonorities touches. It's modern, brutal and heavy, but still bearing excellent melodies. And to see the names of Tim "Ripper" Owens on the vocals, Chris Poland on the guitars and Deen Castronovo on the vocals of "Gazing at Medusa" is to really make everyone's eyes open wide. And their personalities getting along with the veterans Ted Kirkpatrick and Aaron Garcia made of this album one of the greatest moments of the years. Melodic, aggressive, charming and bearing excellent choruses and harmonies… What could we ask for after that?

Ted Kirkpatrick produced the album, having with him in the mixing and mastering the hands of Aaron Pace. All works perfectly, bearing the aggressiveness of the instrumental tunes along with their charming melodies, and always showing weight. It's a perfect sound quality, indeed. And the work of Jason Juta on the artwork for the album's cover is really amazing, justifying the title of the album. The album's songs are all amazing, but you can start by the following set to get used to it: "Sinister Scherzo" (a charming piece of Heavy/Thrash Metal with very good tempos and a great work on the guitar riffs), "Memento Mori" (a heavier and slower song that bears a melancholic feeling, so it demands an excellent interpretation from the vocals), "All Good Things Died Here" (a faster song, with an Old School Heavy/Thrash Metal feeling), "The Crushing Weight of Eternity" (amazing melodies and a great work on guitars), "Can't Make Me Hate You" (a song filled with a deeper feeling and showing perfect vocals once more), and "Gazing at Medusa" (excellent melodies and what a lovely and catching chorus).

If you're a fan of US Metal, Heavy Metal or anything of good taste, listen to "Gazing at Medusa" and be seduced by one of the greatest albums of this year!
CUSTOMER REVIEW
Nice, shorter song from Tourniquet. A preview of their upcoming album (slated for end of September, tentatively), but it's also worth noting that Deen Castronovo (drummer for the Dead Daisies, formerly of Journey) only sings on this one song. The rest of the album will feature Tim "Ripper" Owens (Judas Priest, Iced Earth) and additional vocals by longtime Tourniquet guitarist Aaron Guerra.

As for the song itself, great drumming from Ted Kirkpatrick, as always. I am pleased they finally showcased the bass guitar a little bit at the end of the song (also played by Ted). I feel like the bass has been buried in the mix since Victor Macias left the band way back when, so I'm glad it got some love in this song.

Deen sounds surprisingly similar to Steve Perry. Deen is very much a singer in the classic/arena rock style. He does a nice job, but it's the reason I gave this song four stars and not five. (Remember when Les Carlsen sang on the Live EP? He's great, but doesn't quite match the Tourniquet sound. Same deal here.)

Aaron Guerra is an underrated guitarist. I like what he does and the sound he lends to the band with rhythm guitars, the occasional lead, and gritty vocals when the song calls for it. I'm am relieved he's back, after only playing one song on the Onward to Freedom project.

Finally, Chris Poland (founding member of Megadeth) does a solid job on the lead guitar solo. I hope he and Aaron trade solos on the full album like Megadeth does. I think it adds a whole dimension to any band to have two different guys playing solos.

All in all, a cool track, and I am eagerly anticipating this record, especially knowing the lineup on the other 8 songs will be Kirkpatrick, Guerra, Poland and Owens. Should be STELLAR!!