---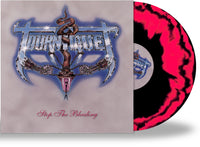 ***We strongly encourage all orders to purchase HASSLE FREE INSURANCE during checkout. 
TOURNIQUET - STOP THE BLEEDING (Metal Icon Series) (*NEW-BLACK CHERRY, 2022, Retroactive)
Pressed at the same time as the red splatter, but held back until 2022 by both Ted Kirkpatrick and Retroactive Records with the plans to release the Black Cherry Vinyl in 2022
The 2020 Red Splatter is almost sold out completely

Vinyl reissue featuring the original artwork

Part of the exclusive Retroactive Record's Metal Icon Series

12x12 insert with lyrics and many never-before-seen band pics

2020 write-up by band leader and founder, Ted Kirkpatrick

2020 remaster by Bombworks Sound, Rob Colwell

Limited to just a 300 unit pressing (get them while you can)

Produced by Bill Metoyer (Metal Blade)

Tourniquet has sold more than 300,000 albums

#5 on

 

CMR Top 100 Christian Metal Albums Of All Time

 



"Ark of Suffering" video voted favorite

 

HM Magazine's

 

video of the year
Tracklist
1 The Test For Leprosy
2 Ready Or Not
3 Ark Of Suffering
4 Tears Of Korah
5 The Threshing Floor
6 You Get What You Pray For
7 Swarming Spirits
8 Whitewashed Tomb
9 Somnambulism
10 Harlot Widow And The Virgin Bride
ABOUT THE ALBUM
Few bands have hit the scene with a debut album that was a too-hot-handle bonafide instant classic from the moment it hit the stores. The CMR Top 100 Christian Metal Albums Of All-Time ranks this 1990 debut at #5 of ALL-TIME!  And, yes, it is that important and that good! Tourniquet formed in Los Angeles, CA in 1989. The band was founded by Ted Kirkpatrick, Guy Ritter, and Gary Lenaire. Stop the Bleeding is an intoxicating mixture of thrash, progressive, and neo-classical heavy metal that helped the band move light years beyond cliche' and triviality.   The song "You Get What You Pray For" was the band's first single and charted quite well. It was a GMA Dove Award nominee for "Metal Recorded Song of the Year" in 1990. The band's groundbreaking and controversial video for "Ark of Suffering," written by drummer Ted Kirkpatrick, a true animal welfare advocate, contains disturbing footage of animals in laboratories and slaughterhouses - received airplay on MTV before the channel ceased airing it after complaints that it was too graphic. Despite MTV's ban, the video won the Christian News Forum Contemporary Christian Music Award for "Rock Video of the Year," and Heaven's Metal magazine readers voted it their "Favorite Video of the Year." Tourniquet has earned six GMA Dove Award nominations and won recognition globally from magazines such as Modern Drummer, Guitar Player, Metal Hammer, and HM Magazine, where Tourniquet was voted "Favorite Band of the 1990s" and won "Favorite Album of the 1990s." Tourniquet has sold more than 300,000 albums.  The 2020 reissue is reloaded with a 12x12 insert with with loads of never-before-seen band pics. And, you also get the 2020 remaster by Rob Colwell of Bombworks Sound which makes this is THE ultimate collector's dream for deluxe reissues!