---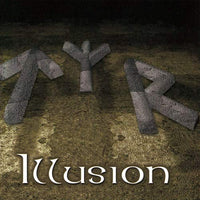 Limited to 500 hand-numbered copies.

1-8 Illusion (CD 2001)
9 Unreleased Demo 2007
10-14 Demo 1999
Tracklist
1 Play The Game
2 Burn
3 Illusion
4 Far Away
5 Scary Man
6 Naked World
7 What Do You Do
8 Life
9 Can't Run Forever
10 We All Fall Down
11 Slave To The Feeling
12 Killing Time
13 Bitter End
14 Better Days

Finally, one of our favorite bands from the mighty Texas is added to the Arkeyn Steel Records roster! Their "Illusion" CD which was privately released back in 2002 was always a top pick in our playlist and we always thought that this material deserves a proper re-release.

Musically this band is an amazing mixture of RIOT, SAVATAGE, LEATHERWOLF and QUEENSRYCHE. Their amazing songwriting is their top feature. Expect no fillers here. Top class, inspired riffing, catchy vocal melodies and of course those excellent lead guitar parts are making this band an absolute must for everyone into US Metal.

TYR was formed back in 1998 in Dallas, Texas, USA. In 1999 a 5-song promotional demo was recorded and released as a limited edition of 50 copies. The massive airplay of the demo and the regular shows around their area generated quite an attention around the band.

Their next step was their "Illusion" debut which was first released as a very limited edition of 30 CD-r copies that were offered on a band's show back on 2001. This edition featured a little different artwork compared to the official private pressing of 1000 copies that was finally released on April of 2002. Needless to say that the CD was sold out quite fast and became one of the most desired items for the US Metal CD collectors worldwide. No other recordings were made by TYR except the track "You Can't Run Forever" that was recorded back in 2007 before their final disbanding.