---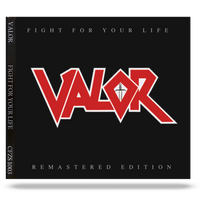 VALOR - FIGHT FOR YOUR LIFE (NEW-CD, 2019) Remastered Classic Speed Metal ala early SLAYER!
Remastered
4-panel digipak
Christian, heavy metal band formed in the San Francisco bay area in 1986. They were really a Christian speed/ power metal band. Originally starting off as Golgotha. Valor recorded one demo "Masquerade" (1986) and released their full-length album "Fight For Your Life" in 1988. Valor's is the Christian Metal  community's answer to Slayer, Exodus, and Metallica. In 1985, Golgotha released a powerful demo that took the Christian metal scene by storm. "Prisoner" provided four songs that proved the band not only had the chops, but also strong songs that made them favorites in the underground metal scene.  "Fight For Your Life," Didn't I," and "Masquerade" are incredible and worth buying just for those. 
In 2004 the album was remastered and released by Retroactive, however this new late-2019 version is even better. Completely remastered and includes the world-renowned Uriah Duffy (Whitesnake, Sly and the Family Stone, etc.) who was brought in to re-track the bass parts on the album. 
Valor 4:46
The Flesh Is Weak 4:02
Fight For Your Life 2:37
Empty Tomb 4:54
Didn't I 4:10
It's Not Too Late 5:32
Accept Him 1:05
Masquerade 4:06
Burn 5:37
Valor was formed by bassist Adam Alvarez in 1986 after the break-up of his previous band Golgotha, a hard rock Christian band. Alvarez retained vocalist, Michael Brueck, and former Saint drummer, Jim Maxwell, and together they searched for a guitarist after their guitarist, Todd Price, left. Chris Price was called in for an audition and was subsequently hired. Price brought with him the speed metal genre that Valor became known for.
The combination of the hard driving, fast paced music and Brueck's classic rock vocals differentiated Valor from other acts of their time. Vic Sardon was hired as the second guitarist and the band recorded their demo tape, 'Masquerade'. Because Golgotha had gained some fame, the newly formed Valor was able to hit the ground running with an existing fanbase. Prior to 'Fight For Your Life' in1988, Vic Sardon left the band and was never successfully replaced.
In 1989, Adam Alvarez left Valor and was replaced with jazz-rock bassist, Tom Gage. The band continued to play shows and perform new material until the band dissolved in late 1989. Despite their short stretch, Valor continues to carry a unique relevance and a long existing fanbase. 
Original vinyl copies of 'Fight For Your Life' sell for as much as $300 both nationally and internationally. Valor continues to show up on a variety of music websites and YouTube playlists.