---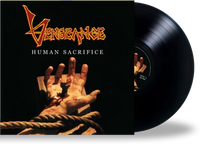 New / Sealed 
Black Vinyl

2020 Roxx Records
The Best Christian Metal Album of ALL TIME according to Heaven's Metal Mag
Vengeance - Human Sacrifice is the album that launched the Christian thrash scene and probably the best Christian Metal album of all time.  This album has been completely remastered for vinyl and only 450 units available in black.
This album does not include an insert.
You can put Vengeance up against early Slayer, Exodus, etc. and they're just as good, and in many ways, they're better. You won't be disappointed.
THE ALBUM
In 1987 Pastor Bob Beeman of Sanctuary International called together a very special group of musicians that would come together to form a new ministry minded band out of Southern California. With a lot of prayer and faith the players were assembled and the full band would come together to record and distribute their very first demo tape. That tape would be what many people still consider to be the beginning of a movement, one thing was certain it was about to make a lasting impression on the Christian music community.
That band was one of the very first in the genre of Christian thrash, that band was called Vengeance and that tape was their original 5 song self-titled cassette only demo. That tape would lead them to signing a multiple album record contract on Intense Records which ultimately led to the release of their first full length album entitled "Human Sacrifice".
"Human Sacrifice" was one of the most controversial releases of the time. Many Christian record stores would ban the album from their shelves completely. The album featured the hand of Pastor Bob himself portraying the bloodied hand of Christ nailed to the cross. The music was harsh and in the vein of bands like Dark Angel and Slayer, it definitely took the Christian White Metal scene to a whole new level.
Track Listing:
"Human Sacrifice" (2:36)
"Burn" (3:59)
"Mulligan Stew" (3:02)
"Receive Him" (0:06)
"I Love Hating Evil" (3:26)
"Fatal Delay" (3:13)
"White Throne" (3:06)
"Salvation" (0:17)
"From the Dead" (4:34)
"Ascension" (5:25)
"He is God" (0:53)
"Fill this Place with Blood" (2:39)
"Beheaded" (3:10)