---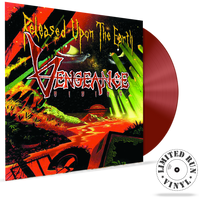 Sale
LIMITED SUPPLY - ONET-TIME STOCK - GET THEM WHILE YOU CAN AT THIS PRICE.
Exclusive Limited Edition - 150 COPIES ONLY!
- 150 Unit Pressing
- 180g vinyl
- Random color vinyl
- Black poly-lined sleeve
- Remastered for Vinyl
- Lyric sheet included
FIRST TIME EVER ON VINYL! Vengeance Rising the 4th and final album from this Christian thrash band that needs  no introduction! You get all the original classic tracks remastered especially for this 180g vinyl release. Limited to ONE TIME pressing! Another one that will surely be a collectors item if you don't act fast!
Side A
1. Help me
2. The Damnation of Judas & the salvation of the thief
3. Released upon the earth
4. Human dark potential
5. Instruments of death
Side B
1. Lest you be judged
2. Out of  bounds
3. Bishop of souls
4. Tion
5. You will be hated