---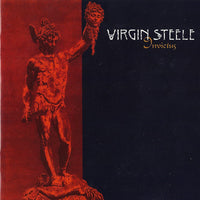 VIRGIN STEELE - INVICTUS (*Pre-Owned CD, 1998, Noise/TNT) Pure heavy metal!
Well cared for 
CUSTOMER REVIEW
I almost never , if ever, give anything a 5 star review, I tend to be very honest in my reviews, so trust me when I say that this is a true 5 star album. This is not just the best Virgin Steele album, but one of the best metal albums of any band of all time, better than the best ouput of the gods such as Maiden, Manowar, Priest, etc.
Metal has always been uplifting, but this album will make you want to go out and conquer a small nation when you are done listening to it. VS have been called "the thinking man's Manowar" , but that is like comparing a GED to a PHD, VS are simply in a league of their own altogether when it comes to songwriting and compostion. This album is killer from start to finish , with each song having it's own uniqueness and memorability, and ZERO filler. The only improvement could have been a bit better production, other than that this is metal perfection. Yes , it's THAT DAMN GOOD !
If you don't own this, BUY IT NOW, before any new release of any other band. This album should be a MANDATORY part of any true metalheads collection.