---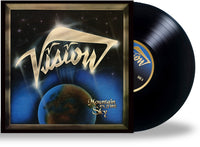 Sale
VISION - MOUNTAIN IN THE SKY (*NEW-VINYL, 2010, Born Twice) Lynyrd Skynyrd 

***We strongly encourage you to purchase hassle-free low cost insurance for your order at checkout. It will cover your entire order against damage, not just this item.


Features both Billy Powell & Leon Wilkeson from Lynyrd Skynyrd fame!
85% Rating from AngelicWarlord.com
Originally an independent release - only on vinyl from 1984 
Remastered for vinyl
Heavy-weight vinyl with 12x12 full color insert
Limited to just 200 copies word-wide
Southern-styled progressive rock for fans of Kansas, Mylon Lefevre and Lynyrd Skynyrd
ABOUT THE ALBUM
Billy Powell (Lynyrd Skynyrd) played with Vision after the band signed with Heartland Records for a sophomore self-titled release in 1985. Five tracks from the debut would be completely re-recorded from the ground up, with significant differences in arrangement and production now that they were with a major label. Five other newly penned songs were also recorded, one of which was the anthemic "Standing On the Rock" which Heaven's Metal Magazine editor Doug Van Pelt would go on to claim was, "one of the absolute best Christian rock songs of the era." Powell's keyboards, which made Skynyrd's sound one of the most distinctive in rock and roll history, help Vision's sound resonate with power and authority. Marshall's crystal-clear rock voice (a la Steve Perry or Dennis DeYoung) brings clarity to a powerful message that continues to inspire and move people today. Vision put together all the necessities of a truly great rock band, combining elements of art rock with solid guitar-driven stadium rock. Marshall and company created a unique sound all their own that still sounds good 25+ years after it was first recorded! With prime riff-rockers from start to finish, this album is rock perfection. Steve Holland (Molly Hatchett) is quoted as saying, "Vision - I don't need no stinking Vision. I'm blind as a bat as it is....but this old bat has great hearing! And that's all you need to know with these guys! Wow!" Beyond the tragedy, the history, the raging guitars and the killer songs, ultimately, VISION is about an indomitable will; about survival of spirit; unbowed, uniquely American and stubbornly resolute. After MANY years of reissuing Christian rock and metal classics, this long out-of-print album has consistently been one of Retroactive Record's most requested reissues. All three Vision albums have been remastered for CD, with exclusive and insightful liner notes and 100% rock! The Mountain In the Sky album was an independent release on Dunamiz Records (1984).  Impossible to find until now - remastered for vinyl, a 12x12 color insert, and heavy-weight vinyl - fans should prepare to lose control! This one has strong progressive overtones!  For fans of Kansas, Styx, Mylon LeFevre and Lynyrd Skynyrd!
1. Mountain In the Sky
2. Coming Soon
3. Old Man
4. Dynamos
5. Standing In the Light
6. Dedicated
7. Fight the Good Fight
8. Soldiers Song
9. Lord Is My Joy