---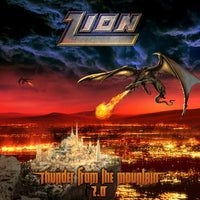 Zion ‎– Thunder From The Mountain 2.0 (*NEW-CD, 2019, Image Records)
Digisleeve
Notes

Re-release of the "Thunder From The Mountain" album with total remix and remastering!
Plus a new song : "The Big Fall"
Image Records is proud to present Zion ! Before Stryper, Whitecross and Holy Soldier there was a pioneer christian rock band…..Zion!

Originating in Sioux Falls South Dakota in 1981 and eventually becoming known nationally as well as internationally when the band signed with the east coast label Image Records in 1988. What most people don't know is the fact that after the song 'Is It A Crime' from the Thunder From The Mountain album was licensed to Myrrh Records (Word) to be used on their "Twelve New Faces" album from which the song ended up dominating radio airplay charts, Myrrh began courting Zion, Image Records and David Zaffiro to become Myrrh's first and only metal band and have David as producer. Image and Myrrh could not come to terms however and Myrrh went on to sign Holy Soldier and have David Zaffiro produce them instead. The rest is history. Had Image and Myrrh come to an agreement, Holy Soldier probably wouldn't have been signed to Myrrh. It pleases the band to know that they were actually picked first even though a deal could not be made. Zion disbanded in 1992 after enjoying a very successful +11 years of rocking the land and releasing several ep's and demo's and finally the cd "Thunder From The Mountain" which had five top ten hit singles! 2004 found the boys in the band reuniting in Portland Oregon in August on the 15th year anniversary of the recording sessions of "Thunder". The members are always working on new material of various styles. The last album released is a collection of live cuts and rare demo's, and previously unreleased on cd tunes titled "Thrillseeker".

2019 finds the band re-releasing their debut album remixed and remastered by renowned mastering engineer Glenn Thomas of Ituneaudio in Canada creating a fan frenzy once again. The album also contains a bonus cut, the newly tracked song titled 'The Big Fall".

"Thunder From The Mountain 2.0" is available now on professionally duplicated CD in a 4 panel envelope style CD package.
Tracklist
1 Who Pulls The String
2 Kick in the Gates
3 Is it a Crime
4 Help me
5 Thrillseeker
6 Sold you a Lie
7 Roll The Rock
8 He Loves You
9 The Big Fall
10 Less of Me