---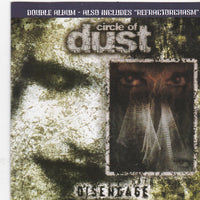 Factory Sealed, Ships with tracking!
Retroactive Records 2005 Reissue!
CUSTOMER REVIEW
Sadly the last album under the Circle of Dust name, but what a reign it was that Klay Scott held in what really is one of the preeminent underground industrial acts of all time. Klank is gone, leaving Klay by himself to bring his singular vision of mechanical ambience to life in what truly is the best Circle of Dust release.
The previous releases showcased Scott's penchant for blending random samples from various film and tv sources with atmospheric and aggressive soundscapes. While the 1995 rerelease of the original album was a major improvement, it was still lacking in musical quality. "Brainchild" heralded such greats as the violent thrasher "Deviate," "Telltale Crime," and the "Agressor/Regressor" mixes. Now we have the final album "Disengage."
This album is excellent. More than that, it is the perfect industrial album. The electronics are pulsing, the melodies infectious, and the songs aggressive but personal. Did I mention melody? That is what sets this album apart from the past Circle of Dust releases. Without losing its anarchic underground edge, there is a sense of solid song structures that are approachable and listenable. This album is still heavy on the samples, but even with "Brainchild"'s seamless fusion, it is hard to imagine this album without them.
"Chasm" and "Refractor" not only bear resemblence to past Circle of Dust, but the blending of the two in the single remixes attached as the second half of the CD is done with an ingenuity that Trent Reznor should be envious of. "Mesmerized" is a very poignant song that is both edgy and somehow radio friendly. It is by far my favorite song on the album. "Waste of Time," "Yurasuka," and "Blindeye" are great headbangers that not only possess driving rhythms and electronic ambience, but also contain elements of hip-hop vocalisation. And then there are the three instrumentals, "Babylon," "Thulcandra," and "Perelandra." While the latter two are similar in an atmosphere of decrepit imagery (they would not have been out of place on the "Quake" soundtrack), "Babylon" has a melodious horror that sends shivers down the spine of the listener, giving the feeling of being trapped in the wasteland of babylon.
Basically, this album possesses something for everybody. There's lyrical genius, musical excellence, and industrial mayhem to go with it. "Disengage" is perhaps the best album ever to bear the label of industrial music, and is certainly an excellent closer to this chapter in Klay Scott's seemingly schizophrenic career (remember he produced Prong and Klank, and goes under many pseudonyms, including Argyle Park, and his current project Celldweller). May this CD find its ways to the ears of industrial music fans everywhere. Truly a great album that should not go ignored.