---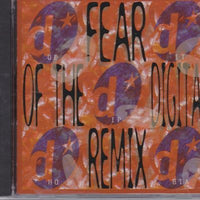 Sale
Deitiphobia - Fear of the Digital Remix (*NEW-CD, 1995, Myx Records)
Tracklist
1 TV
Engineer ? Dave Hackbarth
3:52
2 Blind Hate 3:20
3 Exorcist 4:38
4 Need 4:07
5 Religious Fanatic 4:52
6 Mastermind 2:17
7 Wilbur 4:20
8 The Late Pastor Harry Dean 3:36
9 Arc 3:49
10 B-Movie 2:52
11 Vamp Jesus 2:37
Companies, etc.
Phonographic Copyright (p) ? Myx Records
Copyright (c) ? Myx Records
Distributed By ? Diamante Distribution
Engineered At ? Moonsong Studio
Engineered At ? Vineyard Studios (2)
Mastered At ? Bernie Grundman Mastering
Designed At ? Einzig Design
Pressed By ? Disctronics USA
Credits
A&R ? Matthew Duffy
Art Direction ? Thom Roy
Design [Cover Design] ? Bob Conlon (2), Wally Shaw
Engineer ? Bob Moon
Mastered By ? Brian Gardner
Producer, Remix [Digitally Edited Remixes By] ? Michael Knott
Notes
Sleeve notes: ?All songs on this project were originally written and recorded by DEITIPHOBIA. They were creatively procured and extracted, then digitally spindled, folded and otherwise manipulated until they hardly bore a resemblance to the original masters (Fear of God, Blonde Vinyl, 1991 and Digital Priests: the remixes, Blonde Vinyl, 1992). By adding his misunderstood genius, Michael Knott was able to create a veritable plethora of new and interesting sounds. Think of it as a sonic painting using the sounds of DEITIPHOBIA as the colors. The collage contained on this album is his creation as a tip of the hat between friends.?
Engineered @ Moon Song Studio. ?TV? engineered @ Vineyard Studio. Mastered @ Bernie Grundman Mastering. Cover design for Einzig Group.
A partial list of the original tracks:
1: A.O.G./Red Society.
2: I Tore the Sky.
4: Forgiven.
5: Jesu Christe Network/Lost in Light.
7: Dancing Messiah.
8: Graveyards.
9: Architekt=X.
10: Ethereal Worship Sequence, backwards.
? & © 1995 Myx Records (a division of the Frontline Music Group)