---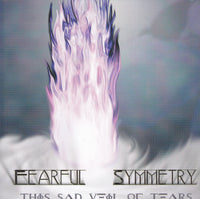 FEARFUL SYMMETRY - THIS SAD VEIL OF TEARS (*NEW-CD, 2003, Retroactive Records) Jimmy Brown Deliverance
Christian Thrash Metal Legend's - DELIVERANCE - side project from vocalist Jimmy Brown.

ANGELICWARLORD.COM REVIEW
This Said Veil Of Tears, the 2003 full length debut of Deliverance frontman Jimmy Brown's new project Fearful Symmetry, takes a foundation of guitar driven hard rock and combines it with elements of industrial, goth and electronica.  The end result is a musical progression from the industrial leanings of Deliverance's very fine 2001 effort Assimilation that proves to be one of the surprise releases of the year .  In addition to handling all rhythm guitar duties, synthesizers, drums and programming, Brown continues to contribute a doomy but melodic flavored David Bowie meets Geoff Tate (Queensryche) lead vocal style.  Long term Deliverance bassist Emmanuel performs capably, while Rick Mester helps out on guitar.
This Sad Veil Of Tears highlights a refined production job giving prominence to an effective blend of crisp rhythm guitar, punchy bass lines and sweeping keyboards.  And while keyboards certainly play a prominent role in the mix here, it is a complementary one that fails to come across in a manner that is heavy handed or overbearing.
Please note that I find the album cover to This Sad Veil Of Tears to be on the plain side.  At the same time, lyrics were not included as part of the albums packaging.
"White" opens to a voice counting down from four in German before Morales contributes a bass guitar solo that gives way to a crisp rhythm guitar.  After keyboards accentuate the song at the start of its first verse, the rhythm guitar moves to the front of the mix and underscores a catchy chorus delivered at an upbeat tempo.  "White" delivers a line for all the ages:
Cry over spilled milk
And I laugh...
A quickly moving combination of rhythm guitar and keyboards carries "Binah (The 3rd World)" forward until it slows for a prominently placed bass line for its first verse.  As the song picks up in pace, the rhythm guitar enters the mix to reinforce a strong hard hitting chorus.
Introduced to several seconds of quirky keyboards, "Lead Us" progresses to an edgy rhythm guitar that transitions to a punchy bass line at the start of its first verse.  The rhythm guitar returns as the song arrives at a chorus giving rise to a good melodic feel.
  
A blend of keyboards and bass guitar drives "Slipping" ahead until the rhythm guitar kicks in and carries its first verse at a mid-tempo pace.  Once the rhythm guitar moves to the front of the mix, the song picks up in pace for a chorus with a huge commercial flavored hook.
"Sighs" takes off in up-tempo fashion to a near perfect amalgamation of piano and rhythm guitar.  Subsequent to the piano dropping from the mix upon reaching its first verse, the song advances in a guitar driven manner until keyboards step forward in time to bolster an infectious chorus that will pull you in an refuse to let go.
A keyboard solo initiates "Middle Of Nowhere" before Brown states, "None of this ever happened."  After keyboards take the song through its first verse, the rhythm guitar enters the mix at the start of the second and leads the way to a very fine smooth sounding chorus.
"Reinvent The World" begins to a blend of programmed drums and keyboards that transition to a driving hard rock guitar riff.  The rhythm guitar, nevertheless, drops from the mix as the song reaches its first verse only to return for the second and pushes it to an upbeat chorus underlined by a touch of keyboards.
A prominent mix of keyboards sustained by a punchy bass line commences "The Law" before it immediately launches into a catchy chorus buttressed by a crisp rhythm guitar.  As the song transitions to its first verse, it is propelled by a steady bass line as the rhythm guitar fades in and out of the mix.  Morales contributes a very well done bass guitar solo.
The hard rocking "Black (In The Alone)", by far the albums heaviest track, would not sound out of place on Deliverance's Assimilation  Getting underway to a minute of keyboards and distorted vocal effects, "Black (In The Alone)" takes off to a fast paced driving guitar riff backed by a bit of double bass.  After the rhythm guitar drops from the mix as the song attains its first verse, it returns to shore up an aggressively delivered chorus fortified by more double bass.
The industrial influenced hard rock of Fearful Symmetry's This Sad Veil Of Tears is a noteworthy release highlighting a strong production job and consistent and well crafted songwriting.  While quite the departure from the straightforward hard rock and speed metal characterizing his work with Deliverance, Jimmy Brown has scored a hit with a refreshing change in musical direction.  (Although I would more than welcome a new Deliverance album!)  If you are either willing to take a chance on something new and different , then I cannot help but give This Sad Veil Of Tears a recommendation.
Review by: Andrew Rockwell
Track Listing: "White" (5:23), "Binah (The 3rd World)" (4:14), "Lead Us" (4:43), "Slipping" (4:35), "Sighs" (4:41), "Middle Of Nowhere" (4:00), "Reinvent The World" (5:15), "The Law" (4:18), "Black (In The Alone)" (4:45)
Musicians
Jimmy P. Brown II – Lead Vocals, Guitars, Synthesizers, Drums & Programming
Emmanuel F. Morales – Bass
Rick Mester – Guitars