---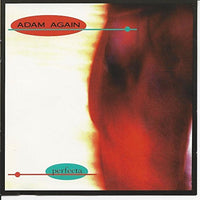 Sale
ADAM AGAIN - PERFECTA (*NEW-CD, 1995, BAI)  
CUSTOMER REVIEW
God what an album! This recording has been one of the most cherished possessions I have ever owned, I loaned it out once, after six months of bugging my friend for it's safe return I vowed never to let it go again. From the start Gene Eugene's fascination with Leonard Cohen is obvious in his use of his ex-wife's haunting back up vocals and his poetic expression - "l.c." is his questioning eulogy to Cohen. His lyric writing and cryptic self examination are classically Cohenesc. This album is an intimate glimpse into the soul of a man who has lost everything but his life. The album is the book of Job to music that is unmatched, comparisons to REM flatter Snipes, not Eugene. Eugene's break up with Riki Michele is the fuel to the torching of all he seems to have once valued and enjoyed. He slowly lets his personal tragedy slip out, the story unfolds with each line and song, and soon the whole album has drawn you into his struggle. The stifling pressures of meeting his financial obligations of his recording studio The Green Room (air), the gnawing lonely pain of having happy friends and fans constantly in and out of his home/studio (all you lucky people), his anger, confusion, and sense of loss and mortality are inescapable, powerfully presented, and sobering. All this sorrow is laid at the feet of his Creator in "try not to try" "Try not to try, it's a lesson hard, blind faith will scatter the stars, tonight can be a beginning ... try not to try , it is a sacred art, gripping the slippery stars, tonight can be a beginning" The most haunting point of the album comes in the gentle and comforting final track "don't cry,"

Hey Low

It's time to go

it's time to say goodbye

don't cry

It's wide and deep

and fast asleep

and now we say goodbye

and if you could go

you would I know

and if I could stay ...

don't cry

His parting instructions proved difficult to follow in the year following as fans learned Eugene died in his sleep of a blood clot in the brain after dismissing himself from a group of friends and going to bed with a headache.