---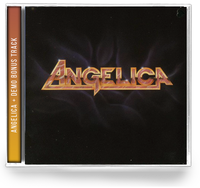 Sale
LAST COPIES....
ANGELICA - ANGELICA (*NEW-CD, 2019, Girder Records) Remastered w Rob Rock/Tamplin
Remastered by Rob Colwell of Bombworks Sound.
8 Page Jewel Case with photos, lyrics and more.
Angelica was a late 80's early 90's Christian Melodic Hard Rock/Metal AOR band  with a very 80s commercial and melodic arena rock/metal/AOR and the brainchild of guitarist extraordinaire, Dennis Cameron. Dennis has been compared to the greatest guitarists of all time such as Steve Vai, Eddie Van Halen, Eric Johnson and Joe Satriani.  He started playing guitar at the young age of 6.  In 1983, he joined a cover band called Antix, playing with them until 1986, moving to the band Masquerade in 1987. Angelica debuted in 1989 as the first of a 5 album deal with Frontline Records. This  album is the only one to feature vocalist Rob Rock (Impelliteri) on all but the last track "Face To Face" which was sung by Ken Tamplin (Shout).  Angelica was cult-like release that brought in fans from all over the globe. This 80s commercial melodic metal/AOR album and has been completely remastered and reloaded. 
For Fans of Shout, Tamplin, Prophet, Strangeways, Alien, Unruly Child, Stryper, Crystavox, Joshua, Mr. Big, Frehley's Comet or Sammy Hagar.
 
Angelica - Their debut album, the only one to feature vocals by Rob Rock (Impelliteri/Driver), on all but one track ("Face To Face") which was sung by Ken Tamplin and is one of those few cult like release that brought in fans from all over the globe.  It's melodic with rippin' guitars.
The Early Days
Dennis Cameron started playing guitar at the young age of 6.  In 1983 he joined a local cover band called Antix and played with them until 1986 moving on to the band Masquerade in 1987.
 
While on the road with Masquerade during a 6 week club tour, laying in bed feeling alone and empty, Dennis found God.
 
Dennis met Andy Lyon (lead vocalist on the Demo Sessions) while running sound for Andy's cover band months later. Andy and Dennis began to write music and put together a 5 song demo that included Shine on Me, Will I ever Learn, Take Me, Only a Man and S.O.S, songs that Dennis had been working on since leaving Masquerade.
 
While recording and writing, Dennis met Christy Arnold who ran a fanzine called Take a Stand who supplied Dennis with contact information for a few labels including Intense and Frontline, at the time were 2 different record labels.  Ironically, Frontline would go on to purchase Intense Records.
 
Dennis pitched his 5 song demo to both companies and immediately received an offer from Intense as well as began a dialog with Frontline Records who asked to hear more songs.
 
Going back into the studio Dennis finished a second 4 Song Demo that included the songs, One Step at a Time, I Believe, Satisfied and Danger Zone and now had 9 songs to present. 
 
The Record Deal
Dennis inked a deal with Frontline's new imprint label Intense Records  and Angelica was born but not before speaking with Michael Bloodgood about the possibilities of joining Bloodgood. Dennis signed a 5 album deal with Intense and went on to record 4 albums in all along with a best of album.
 
ANGELICA 

Angelica was recorded in June-July 1989, and release in 1989 under Intense Records, a division of Frontline Music Group. Angelica featured Dennis Cameron (Guitars), Robert Pallet (bass), Scott Ernest (drums) and Andy Lyon (vocals), whose influences such as Dokken and Rainbow were obvious. However while in the pre-production stage of making the first album, Andy Lyon, the vocalist (more likely from a lack of experience on all our parts) chose to view the opportunity to prepare for recording with less enthusiasm than the rest of the band. The result being that after a couple of days of having Ken Tamplin push him in his performance (as Ken was hired to produce the vocals on the album) that the singer "burned out".
 
At this point, Angelica was in need of a singer to salvage the (what was now being referred to as the Dennis Cameron) project. Ken had suggested two replacements, Bob Carlisle or Rob Rock (Driver/Impellitteri). Rob Rock was chosen as he best suited the music style. At the time of recording, Rob was in the process of rehearsing/recording with Driver while doing the session work for Angelica. Not withholding, Rob would assume his best Iron Maiden pose in the vocal booth and tackle each session as if it were his own. 

Rob's voice was in a higher range than Andy's, which meant that some of the vocal melodies had to be reworked to fit his voice. For example, the original version of "Shine On Me" melody started on a major 3rd, but was transposed to the 5th for Rob.  
 
Angelica finished the album a couple of weeks later but in perfect form and went on to become a cult classic in Christian Rock.  With Dennis at the helm ripping through guitar solos and Ken Tamplin standing by as Rob Rock did his magic, it's no wonder that Angelica went on to become one of the greatest AOR Hard Rock/Metal classic on the day. 
 
Cameron and company released 12 songs, that last song "Face to Face" being sung by Ken Tamplin (Shout/Magdallan). It was produced by Dennis Cameron and Vocal production by Ken Tamplin. Recorded at The Mixing Lab A. Engineered by Dave Jahnsen and Eric Kibby. Mastered by John Matousek.


There's Only One Hero        
Are You Satisfied      
I Believe        
Danger Zone 
Shine On Me 
Only A Man   
One Step At A Time  
Will I Ever Learn      
Take Me        
Ahh!   
S.O.S.
Face To Face