---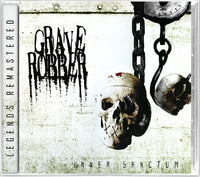 Sale
GRAVE ROBBER - INNER SANCTUM (*NEW-CD, 2020, Retroactive) ***Remastered + 12 Page Booklet + Jewel Case 
Includes Children of the Grave (Black Sabbath cover)
Remastered by Bombworks Sound / Rob Colwell
12 page booklet with 2 panel write up from band vocalist Shawn Browning 
Lyrics included (1st time ever)
Many rare band photos
Jewel Case release (original was digihub)

ABOUT THE ALBUM
"Woafully" out-of-print, Inner Sanctum is now being Remastered and Reloaded! 
Few bands have impacted a scene like Grave Robber.  After their debut CD, 
Be Afraid
made it on 
Heaven's Metal Magazines Top 100 Metal Albums of All-Time
(as a punk rock band!), Grave Robber released their tour de force, 
Inner Sanctum
(2009).
 Christian punk and metal's favorite zombies expanded their Misfits-clone sound to embrace the sweet, sweet nectar of "metal."
Yes, it's memorable. Yes, it's super sing-able. Yes, there are "whoas" in every song.  But 
Inner Sanctum 
is heavier, meaner, nastier than ever before.  An album filled with anthems, reminding a generation that sometimes the walking dead in Christ need to roll up their sleeves, put on their battle jackets, raise the metal horns, AND crowd surf! With the original release long out-of-print, Retroactive Records is DELIGHTED to reissue one of label owner, Matthew Hunt's favorite all-time releases in a sturdy jewel case, expanded 12 page insert with rare band pics, lyrics, and a tremendous write-up from band founder and vocalist, Shawn Browning (Rottweiler Records).  With a fresh remaster, we promise you this classic has been given the deluxe treatment even the pickiest of collectors will truly cherish.   
Tracklist
1 Inner Sanctum 1:46
2 Detonation A.D. 2:57
3 Shadows 2:48
4 Altered States 2:54
5 Fear No Evil 3:15
6 I'm Possessed 2:10
7 Tell Tale Heart 4:02
8 The Night Has Eyes 2:44
9 Valley Of Dry Bones 3:34
10 Men In Black 2:53
11 I Spit On Your Grave 3:04
12 Children Of The Grave 3:43