---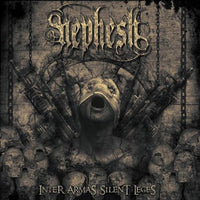 Sale
 Nephesh ‎– Inter Armas Silent Leges (*NEW-CD, 2009, Nokternal Hemizphear) elite Christian Black Metal
For fans of old Dimmu Borgir...
Tracklist

1 Vae Victus 1:24
2 Sangre Immortal 5:01
3 Tormentor Of Sin 3:40
4 Death I Will Be Your Death 5:14
5 Fortaleza Eterna 3:40
6 Psalmorium 5:32
7 Sentence Darkness 8:57
8 Inter Armas Silent Leges 1:56
9 A Cold Breath 3:36
10 Symphony Of War 1:15
11 Apocalypsis 15 3:03

 CUSTOMER REVIEW
Very fast, darkly symphonic unblack metal that almost never lets up. Alot of pace changes are present in this, but it still manages to stay constant and steady. If you like blast beats and alot of double bass with some very intricate and sometimes sneaky melody, then this is for you. The vocals are high and gargley, and sometimes deep, and there is alot of remarkable transitions that will defenitely leave there demon slaughtering imprint on your scarred soul. The lyrics are not kind to the works of satan. Praise the Almighty!