---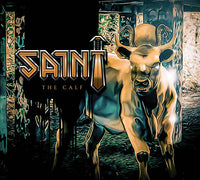 Sale
SAINT - THE CALF (*NEW-VINYL, 2020, Armor Records) 
2019 original release

2020 vinyl release 

Gold vinyl release

Elite heavy Christian metal / iconic band

Best selling metal CD at Boone's Overstock store

For fans of Iron Maiden and Judas Priest
Get the new classic metal masterpiece from one of Christian metal's most iconic bands. This one is being hailed as strongly reminiscent of the band's powerful early catalog.  Vocals by the talented Dave Nelson. The Calf is undoubtedly one of the FINEST releases that Richard Lynch and company have released. It also deserves to sit amongst the finest releases of 2019. Traditional heavy metal with thinking man's edge lyrically; make sure you grab a copy of this soon to be classic of the metal genre. SAINT returns!! CRANK IT UP!!!

1. The Calf
2. Another Day
3. Psalms 23
4. Rise
5. Fine Line
6. Stormy Night
7. Fragile
8. Hell To Pay
9. The Fall
10. God Is God
Jerry Johnson - Matt Smith Guitars
Jared Knowland  Drums
Richard Lynch - Bass
HEAVEN'S METAL REVIEW by Keven Crothers
Arriving from the pacific via a runaway locomotive the latest release from metal merchants Saint has arrived! Entitled The Calf, be prepared for a fantastic excursion into the traditional metal landscape that Saint has really carved out as their own. Solid songs, top notch musicianship and world class production, The Calf supplies all of these in abundance.

Let me be clear, if you are expecting Times End Part Two, forget it. This incarnation of Saint features founder Richard Lynch (bass), Jerry Johnson and Matt Smith (guitars) with drummer Jared Knowland and new vocalist Dave Nelson. Nelson will probably get the most scrutiny from fans of long time vocal workhorse Josh Kramer. Make no mistake, Dave Nelson's grit and gruffness provide a vocal performance which stands right up there with the best of Kramer's work.

Musically it's Saint, albeit with some new added elements, guitar melodies that add depth and ambience. The double guitar attack pays off in spades here, adding some twists and turns to the already classic sound. As I mentioned, this isn't Times End Part Two, so get over it. The Calf is somewhere between Hell Blade and Desperate Night, heavy with perhaps more melody at times. Don't say "more commercial" because these days what does even mean?

Album opener "The Calf" gets it going full speed ahead with nods to "Psalm 23" and "Rise" with tempo and intensity. "Fragile" supplies heaviness with a slower nod but a driving rhythm. The guitar interplay throughout this album is amongst the most top tier to grace a Saint release. Waiting five years between releases has been a huge payoff in this regard. "The Fall" drives poundingly with its headbanging tempo and surprising guitar melodies.

However, album closer "God is God" is a tour de force. Heavy, pounding with spectacular guitar playing that pushes this song to the stratosphere. Lyrically discussing Jesus with depth and insight, amidst the strong arrangements and vocal performance, one of the best Saint songs ever.

Saint has always had some tracks that were melodic without sacrificing their heaviness, "Through You" from Times End or "The War is Over" from Too Late For Living come immediately to mind. In that regard, both "Stormy Night" and "Another Day" fit that bill, both are slightly "subdued" with a stronger emphasis on melody. "Stormy Night" is the stronger of the two songs here with fantastic arranging and some tasty guitar playing. Its message of endurance is a fantastic one, reminding us to press in the Lord.

The entire album is supposed to flow one song to another with a continuing theme throughout. Lyrically, there is a depth that strikes me here, not just a "turn or burn" message but a discussion that is frank, open and honest. Part of the development and growth to this listener's ears, this growth is appreciated with a round of applause.

The Calf is undoubtedly one of the FINEST releases that Richard Lynch and company have released. It also deserves to sit amongst the finest releases of 2019. Traditional heavy metal with thinking man's edge lyrically; make sure you grab a copy of this soon to be classic of the metal genre. SAINT returns!! CRANK IT UP!!!

ANGELIC WARLORD REVIEW

Salem, Oregon based Saint has been giving traditional metal enthusiast's class leading performance since its mid-eighties inception.  Starting in 1984 with its Rotton Records debut EP Warriors Of The Son (70% Angelic Warlord review) but also including Pure Metal Records 1986 initial full length offering Time's End (85% review), the group unveiled its flagship lineup of vocalist Josh Kramer, bassist Richard Lynch and guitarist John Mahan.  For third album and second on Pure Metal in Too Late For Living (90%) from 1988, Saint introduced the first of what would be several roster changes over the years as Dee Harrington replaced Mahan on guitar.
Saint proceeded to go on fifteen year hiatus previous to newcomer and guitarist Jerry Johnson joining Lynch and Kramer on 2004 comeback effort In The Battle (85%) only to see Harrington replace Johnson for the Book of Revelation conceptually themed The Mark (95%) from 2006.  Saint's first twin guitar attack for 2008 release Crime Scene Earth (80%), in which Johnson returned and joined forces with Harrington, was short lived as Harrington later left the group, leaving Johnson the lone guitarist on follow up albums Hell Blade (90%) and Desperate Night (85%) from 2010 and 2012, respectively.
Side Note 1: The unrefined melodic metal of The Perfect Life EP from 1999 (in which Saint employed a drum machine and Tim Lamberson temporarily supplanted Kramer) does not count.
Which leads to the greatest period of roster change in Saint's history as Brian Phyll Miller took over for the departed Kramer, while Matthew P. Smith rounded out the guitar team with Johnson on Broad Is The Gate (75%) from 2014.  Good news is Saint retains its core lineup of Smith, Johnson and Lynch for independent December of 2019 tenth album The Calf.  Lone change to report, however, is the moving on of vocalist Phyll Miller and recruitment of replacement David Nelson.  In terms of comparison, Nelson might not bring the expansive Halford-like range of Kramer or soaring power metal form of Phyll Miller, but he complements the Saint sound equally with a powerful earthy and gritty middle register style. 
Side Note 2:  For those wondering, Jared Knowland solidifies the Saint timekeeping position from having fulfilled the role starting with Desperate Night.  Ahead of that, the group went through drummers at the same pace the Cleveland Browns go through head coaches, noting how its lineup featured six drummers of its first eight albums (said drum machine included). 
So how good is The Calf?  In my opinion, it shares the rarified air of classics such as Too Late For Living, The Mark and Hell Blade with its 90% score.  Musically, it stays true to the Saint traditional metal past, as revealed in albums emphatic opening title track to see Lynch & Knowland lay down the thumping low-end backbone and Johnson & Smith tear it up with a focused rhythm guitar foundation and searing leads.  Otherwise, "The Calf" presents as a quintessential romp and stomp hard rocker in which an ominous instrumental opening gives way to the hulking groove and churlish vestiges to carry its length.  Dark and foreboding, it rates with the albums best.
"Another Day" backs somewhat from the heaviness to its predecessor in elevating tempo and melody in the process.  It comes across with a felicitous animated quality, echoing of imposing harmonies and guitar leads to touch upon the blinding, accrediting the work of Johnson & Smith.  Song peaks for the passage to feature narration from Matthew 6:9 - 'this is how you pray, Father hollowed by Your name' - that gives way to a surly instrumental stretch.  As always, the well-written Saint prose founds on Biblical themes:
Well it's just another day
And I see the end in sight
As the earth is scrolled away
By a Thief in the night
See the writing on the wall
As the kings begin to fall
Oh it's just another day
Well it's just another day
This is how you pray
Father Hollowed be Your Name
Can there be another way
Or is this just another day
The Saint take on "Psalm 23" ensues.  It features some of the albums catchiest riffs and hooks, returning to a more aggressive sound with its drum solo opening and ill-boding riffs to follow but not forsaking accessibility, as found in the engaging 'I will fear no evil - I will fear no evil' refrain.  Nelson particularly stands out in lending a provoking element of emotion to his delivery.  That said, "Psalm 23" no doubt shines as a choice cut, but I also cannot help but feel a subject matter extensive as the passage in question deserves more than just three minutes.
"Rise" is also on the truncated side at three and a half minutes but also solid.  The song highlights some interesting variances, encompassing verse sections make up of guitars with a gritty hard rocking touch but also refrain to temper exponentially to a swarthy, lower register edge.  Overall, a solid mid-tempo effort as one of what amounts several choice deep cuts.  Lyric snippet:
Scream! From the mouth of God spewing out man's religion
King! I have the falling of wings my salvation I am the sinner
Shine on! In the night I'm your Everlasting Light
Rise! Up from the ashes we'll escape damnation
Rise for your master take all that you're worth
Look out for disaster that I unleash on this earth
For I am the king
Including "Fine Line", one of albums more melodic with its catchy rhythms and harmonies set alongside Nelson's complementary gravelly vocal performance.  The forward initiative upholding the songs irascible length only decelerates for a burnished (but highly alluring) refrain to briefly back from the buoyant form.  Of particular note is how albums quality production allows rhythm guitar to rise above the mix fixed and firm.
Maintaining the melodic edge is "Stormy Night".  This one elevates heaviness in comparison in addition to engaging emotional qualities to create an at times burly and others polished sound that brings to mind classic Saint track "On The Street" (off Too Late For Living).  The crystal-clear feel to polished guitar leads also attributes to the tight production.  Lyric snippet:
It's a cold and lonely night
And I think I've lost my way
No self-control a long lost soul to fight another day
Weakness inside of me, my path revels my history
Always convinced I'll find my way
But you are the one I need You've shown me so convincingly
A fool can't wait another day
Oh see me falling
See me crying
See me on my knees
Help me Jesus
Please forgive me
Oh Lord set me free
Reviewers choice cut "Fragile" brings it all: foreboding vestiges, overpowering momentum, defined hooks and thickly woven low end to again speak of old school Saint (Time's End is the better comparison).  Putting the song over the top (at least to these ears) is how guitar melody in the backend - not the riff itself - brings to mind the theme song to The Munsters, at least its first couple of seconds.  Of course, I am sure it is coincidental; that is unless the guys were watching reruns to The Munsters on YouTube in-between takes while in the studio… 
The dire intro to "Hell To Pay" reminds of the opening seconds to another classic Saint Track "Sacrifice" (off In The Battle), a comparison I offer in the most flattering sense in that "Sacrifice" represents on of Saint's finest.  Moving forward the song takes off at a fast-paced tempo, highlighting the unmovable timekeeping of Knowland alongside a steady as it gets epic refrain bordering on power metal territory.  Tight melodic harmonies carry things instrumentally.  Lyric snippet:
The seal is broke it has begun
The tribulation wrath
We've told you bout the end of time
We've told you bout the path
Coming in a cloud of glory
Judgment day has come
He'll return to crush deceivers
Awe the risen (chosen) one
Likewise, "The Fall" also hints of another great Saint cut, "Alpha & Omega" (off The Mark) from how the two share a similar riff, which you can also accept in a complimentary sense.  Musically, it slows to a mid-paced romp, exuding of an apocalyptic metal feel with its fateful overtures and shadowy guitars (again, more light power metal lacings) and fittingly portent (and quite memorable) melody.
Intricate metal piece "God Is God" ends The Calf in fine form.  First seconds mirror the tranquil before initiative takes off at once to Herculean riffs and a chanting of the songs title - 'God IS God! - in unmistakable fashion.  Multiple instrumental excursions to feature the dual lead work of Smith and Johnson lend to the technical fortitude at hand, not to mention the passage halfway in that briefly returns to the calmer direction at the start.  Lyric snippet:
Nail me to the cross, hang my head in shame
Rip the cloth that makes me holy
Lay me in the dirt you like to rest me in
But in your soil I only grow
I only grow
Wake up the souls of burning
It spreads across the sky
Look in the eyes of the beholder
Before you die
God is God!
The Calf receives a well-deserved 90% grade due to its total package of front to back consistency (10 well-rounded tracks to put it into full-length territory) backed by solid musicianship, complementary vocals and tight production.  It becomes obvious that Saint worked extremely hard (both in the studio and out) the five years since its last album Broad Is The Gate from 2014, which was more of an EP due to coming in at just over a half hour.  If a fan of Saint and/or any form of traditional metal then The Calf comes with the strongest recommendation
Lone complaint is that outside the occasional Facebook post, no promotion ended up done to support the album in the form of press material, official/lyric videos, uploading songs to YouTube ahead of the release date, etc.  Am I out of line to suggest that the word deserves to get out a bit better in regards to an album as fine as The Calf?  This is why in certain instances it is best to work with a label as opposed to going the independent route.
Review by Andrew Rockwell
Track Listing: "The Calf" (4:44), "Another Day" (4:13), "Psalm 23" (3:03), "Rise" (3:20), "Fine Line" (4:19), "Stormy Night" (4:14), "Fragile" (3:51), "Hell To Pay" (4;09), "The Fall" (4:17), "God Is God" (4:11)
Musicians
David Nelson - Lead Vocals
Jerry Johnson - Guitars
Matthew P. Smith - Guitars
Richard Lynch - Bass
Jared Knowland - Drums