---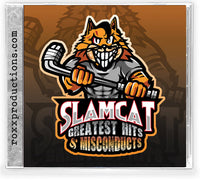 Sale
SLAMCAT - GREATEST HITS & MISCONDUCTS (2022 REMASTERED CD)

New, Sealed CD
Jewel Case with 12 Page booklet
Release Date: May 13, 2022
2 Bonus Tracks
SLAMCAT Greatest Hits & Misconducts. If you are not familiar with SLAMCAT you need to be! This crazy thrash, crossover metal mixed with punk music comes to you all the way from Oklahoma and we are very excited to announce this 30th anniversary retrospective from one of Oklahoma's finest Christian Metal acts that launched way back in 1992... SLAMCAT 
Slamcat were only active on the scene for about 4 or 5 years but made a lasting impact on the Christian music scene with their crazy blend of thrash, metal and punk music. This year marks 30 years since these guys started this all, playing stages with many well known acts through the years. 
The band had a total of three releases, starting with their first demo tape simply being self titled and containing 4 tracks (Mr. Psycho, You, Stupidest Things and End of "Tree") 
The second self released cassette tape only release was titled 'Cat Got Your Tongue' and contained 8 tracks (Cat Got Your Tongue, Why Can't I, From Within, Mr Psycho, Saving Tree, Said, Stupidest Things and No Preps) The track 'Why Can't I' would also be featured on the 'Heavens Metal Hard Music Compilation Vol 1'.
Their third and final release is also their most well known release originally released by Cross-Check Records with critical acclaim and was titled 'El Gato De La Slam'. El Gato De La Slam contained nine tracks and would be the last official release from this stellar indie Christian Metal act. El Gato contained these nine tracks (Back to you,               Commitment, Before God, S.S.C., Mercy and Grace, Red River (One Bad Pig Cover), Nothing, Drop the Puck and a Secret/Hidden Track) The track 'Nothing' would also be featured on the compilation 'Massive Frequency Overload' 
Well now this little old crazy punk rock and metal band is about to come at you again as we celebrate 30 years of one of Oklahoma's finest Christian metal acts Slamcat' To commemorate this band and their history with this new release we are bringing you the best of all of these releases culminated in to one beautiful remastered package entitled 'Greatest Hits & Misconducts' 
This limited edition package will be a one time pressing of only 300 copies, housed in a jewel case with a full color 12 page booklet containing all the lyrics and excellent new liner notes from the band. This beautiful limited edition package has been completely remastered by Rob Colwell of 'Bombworks Sound' and all new artwork, layout and design by Scott Waters of 'NoLifeTilMetal Graphics'. 
Track Listing
1. Back To You (from El Gato)
2. Commitment (from El Gato)
3. Before God (from El Gato)
4. S.S.C. [Sunday School Cool] (from El Gato)
5. Mercy and Grace (from El Gato)
6. Red River (from El Gato)
7. Nothing (from El Gato)
8. Drop The Puck (from El Gato)
9. Mr. Psycho (from S/T)
10. You (from S/T)
11. Stupidest Things (from S/T)
12. Cat Got Your Tongue? (from Cat Got Your Tongue)
13. Why Can't I? (from Cat Got Your Tongue)
14. From Within (from Cat Got Your Tongue)
15. Mr. Psycho (from Cat Got Your Tongue)
16. Saving Tree (from Cat Got Your Tongue)
17. Said (from Cat Got Your Tongue)
18. Stupidest Things (from Cat Got Your Tongue)
19. No Preps (from Cat Got Your Tongue)